Thursday, January 22, 2015
SU Offers Piano Class for Adult Beginners February 4-March 11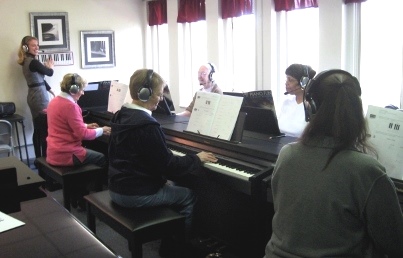 SALISBURY, MD---Ever wanted to learn piano, but thought you were too old? Well, you're not!
A new group piano class designed for adult beginners will be held Wednesdays, February 4-March 11, at Salisbury University. Classes meet from 1-1:50 p.m.
An open house for interested adults is 1-1:50 p.m. Wednesday, January 28, in Fulton Hall Room 234.
An optional second session continues April 1-May 6.
Offered by PRESTO, the Preparatory School of Music at SU, classes are taught by Dr. Nan Richerson. No music background is required and it is not necessary to own a piano, as students may practice on campus. Tuition is $120 per six-week session.
Basic principles of music reading and keyboard are taught. Classes are in a digital group piano lab, enabling students to hear only their piano and the instructor's, fostering a relaxed, stress-free learning environment.
To register, call 410-548-2985 or email presto@salisbury.edu. For more information, visit the Presto website at www.salisbury.edu/musicdept/presto.