Wednesday, November 4, 2009
SU Nursing Student Wins National Competition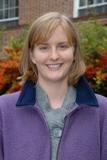 SALISBURY, MD---For Salisbury University second-degree nursing student Mary Cockey of Salisbury, a family tragedy was life-changing.
When Cockey's sister was diagnosed with—and eventually died from—a rare auto-immune liver disease, the compassion Cockey saw in the nurses that assisted her family convinced her to pursue a career in nursing.
As one of eight $10,000 Robert Wood Johnson Foundation New Careers in Nursing Scholarship winners at SU, she recently shared her story with the foundation, where it was chosen as an "I Believe This About Nursing" national essay contest winner.
"We were heartbroken and helpless as my sister became jaundice yellow and slipped into a coma," Cockey wrote in her essay. "Despite her unconsciousness, the nurses in the hospital treated my sister with the greatest respect and care. One evening as I approached my sister's room I heard someone singing, and when I walked in I realized that her nurse was singing her a lullaby during her evening bath.
"Even though she was not able to thank them, their actions forever impacted my life and inspired me to become a nurse. They showed me how to be truly compassionate, to give empathy and respect at the same time."
The foundation will feature Cockey's essay on its Web site, www.rwjf.org. Cockey also received a gift bag from the foundation.
With its New Careers in Nursing scholarships, the Robert Wood Johnson Foundation hopes to alleviate the national nursing shortage by enabling hundreds of students to launch their nursing careers through accelerated education not otherwise possible without financial assistance.
For more information call 410-543-6030 or visit the SU Web site at www.salisbury.edu.