Thursday, January 7, 2010
SU Named Lower Shore Enterprises' Employer of the Year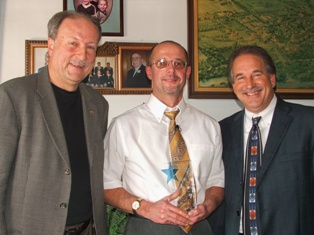 From left: Jack Heath, Lower Shore Enterprises executive director and CEO; Dale Kovalik, SU Commons assistant manager; and Paul Land, SU auxiliary services director.
SALISBURY, MD---Lower Shore Enterprises (LSE) recently honored Salisbury University with its 2009 Employer of the Year Award, recognizing SU for more than a decade of commitment to hiring people with disabilities.
LSE helps enable residents with disabilities in Wicomico, Worcester, Somerset and Dorchester counties to gain employment at local businesses and institutions. SU currently employs 15 workers served by LSE.
"We have an ongoing 15-year relationship with Lower Shore Enterprises which has been mutually beneficial to us both," said Paul Land, SU director of auxiliary services. "They provide excellent, hard working employees and we provide training and supervision to learn life skills and to earn a steady income."
"Over the years we have had more than 25 workers placed at SU. The experience and training they received allowed them to improve their skills and move on to other jobs in the community," said Jack Heath, LSE executive director and CEO. "We look forward to our continuing partnership, affording job opportunities to individuals with disabilities."
Clients in LSE's program receive individualized case management services that assist them in reaching unique, attainable personal and employment goals. The organization also works with families and employers to ensure workers have the support systems needed to learn and expand skills needed in the work force.
For more information call 410-543-6030 or visit the SU Web site at www.salisbury.edu.