Monday, June 29, 2015
SU Named Among Nation's '50 Most Amazing University Arboretums'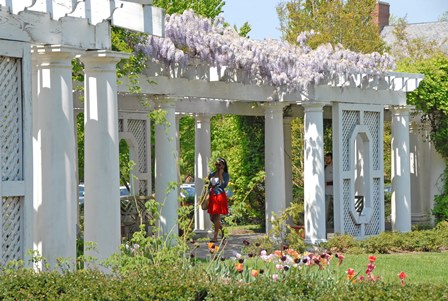 SALISBURY, MD---National guidebooks have long included Salisbury University among the nation's best values in public colleges.
Now, one website has ranked it among the most beautiful, as well.
Best Colleges Online.org recently named SU one of its "50 Most Amazing University Botanical Gardens and Arboretums in the U.S."
The 145-acre Salisbury campus achieved national arboretum status in 1988, serving as an outdoor laboratory for students and maintaining more than 2,000 species of woody and herbaceous plants for public view.
"In addition to its impressive collection of trees, shrubs, vines and perennials, the arboretum boasts a fine collection of sculptures … including many representatives of the turn-of-the-century Beaux Arts style …" said Best Colleges Online. "Students taking courses in … biological sciences and environmental studies find much value in the hands-on learning experiences the arboretum provides."
"SU is proud to add this designation to its growing list of accolades," said Betty Crockett, the University's vice president of administration and finance. "It not only reflects well on the campus as a whole, but speaks highly of our dedicated horticulture staff, which works hard to keep SU's grounds beautiful in every season."
The website ranked colleges based on major awards and recognitions, variety of species, conservation and education initiatives, connected degree programs and U.S. Green Building Council Leadership in Energy and Environmental Design (LEED)-certified campus buildings.
SU is one of only two Maryland institutions on the Top 50 list, along with the University of Maryland, College Park. Additional campuses represented include Harvard, Cornell and Purdue universities, among others.
For more information call 410-543-6030 or visit the SU website at www.salisbury.edu.