Tuesday, November 24, 2015
SU Model UN Club Earns Distinguished Delegation Award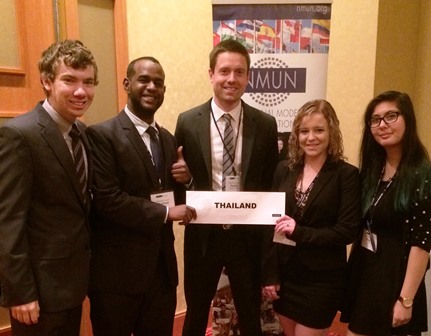 SALISBURY, MD---Members of Salisbury University's Model United Nations Club recently earned recognition for their high-level diplomatic negotiations with other students from around the world.

SU students Alex Aiosa, McRae Arceo, Kristina Stull and Mahmoud Yousif represented Thailand at the annual National Model United Nations conference in Washington, D.C.

For their efforts, including two months of preparation and participation in committee sessions during the conference, SU's team was presented with the Distinguished Delegation Award. This was the team's first national Model UN conference.

Sponsored by the National Collegiate Conference Association and the Osgood Center for International Studies, the event allowed the SU delegation to work with others who share their passion for international politics, diplomacy and global issues.



One of the two committees SU representatives served on confronted the problem of extant landmines, while the other tackled the challenge of preserving world heritage sites. To seek agreement, delegations had to formulate positions that balanced national sovereignty with the need for international cooperation.

Negotiations extended into lunch and dinner breaks, and often went late into the evening, after 11 p.m. when committees officially adjourned. The written resolutions that ultimately emerged garnered broad support and were passed by both committees on the final day of the conference in a demonstration of multilateral diplomacy.

The conference also featured several top experts and practitioners who shared with students their real-world experiences. Before the opening ceremony, a panel of U.S. State Department officials outlined international initiatives to reduce greenhouse gas emissions and to update the Millennium Development goals.

Reza Marashi, a member of the Iranian American Council, keynoted the opening ceremony, discussing his role in the nuclear deal with Iran. As the keynote speaker for the closing ceremony, Cindy Dyer, vice president at Vital Voices, talked about her organization's mission of preventing violence against women around the world.

In addition, the conference included an "opportunity fair," at which representatives from top graduate schools in international affairs showcased their programs to participants. Meeting with representatives from such institutions as American University, SU students learned about enrolling in graduate programs, securing internships and finding careers in international relations.

For more information call 410-543-6030 or visit the SU website at www.salisbury.edu.