Wednesday, August 27, 2014
SU Management Book Featured on Aspen Institute Website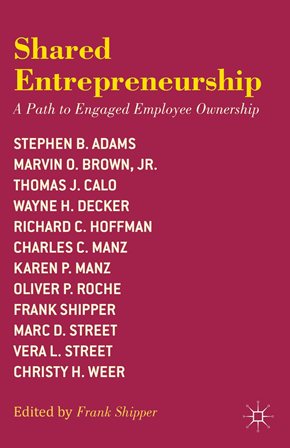 SALISBURY, MD---A book written by a team of primarily Salisbury University management faculty members has been featured on the Aspen Institute Center for Business Education's CasePlace website.

The text, Shared Entrepreneurship: A Path to Engaged Employee Ownership, begins by describing the fundamental principles underlying the success of these exemplary enterprises. It concludes by providing a variety of case studies.

The faculty team members whose studies comprise the book include Drs. Stephen Adams, Marvin "Mo" Brown Jr., Thomas Calo, Wayne Decker, Richard Hoffman, Olivier Roche, Frank Shipper, Marc Street, Vera Street and Christy Weer, along with research associate Karen Manz and Dr. Charles Manz, the Nirenberg Professor of Leadership at the University of Massachusetts Amherst.

Companies profiled include Herman Miller, Inc.; SRC Holdings and W.L. Gore & Associates, among others.

The Aspen Institute's CasePlace site, www.caseplace.org, provides educational materials on employee ownership, including multiple cases written by SU faculty.

For more information call 410-543-6030 or visit the SU website at www.salisbury.edu.