Wednesday, April 13, 2016
SU Lecturer Releases Book Evaluating the Feasibility of Delmarva as a Separate State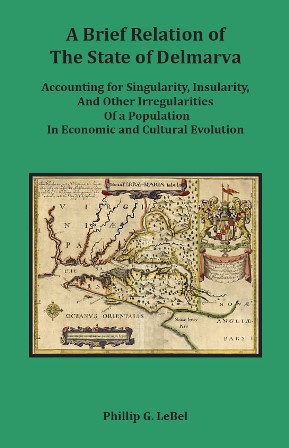 SALISBURY, MD---Should the Delmarva Peninsula break off into its own state?

While the suggestion has been debated for the past 150-plus years — including a few half-hearted succession bills in Annapolis when Maryland's Eastern Shore felt it was not getting its fair share from the General Assembly — the answer is probably "No."

Such is the conclusion reached by Dr. Phillip LeBel, retired professor of economics at Montclair State University, NJ, and lecturer at Salisbury University in his new book A Brief Relation of the State of Delmarva: Accounting for the Singularity, Insularity and Other Irregularities of a Population in Economic and Cultural Evolution, from Maryland History Press.

LeBel, a native of Salisbury, said he first considered the book during trips back to the area to visit his mother, Ellen Bloodsworth, a 1936 SU alumna, before he moved back to the region himself. His inspiration came, in part, from her collection of local history books.

"It was my effort to come to terms with what 'Delmarva' meant in many different dimensions," he said.

Though he was familiar with the region, he researched and wrote the book from the eyes of an "outsider," tracing Delmarva's history from the Mason-Dixon map of 1769 through colonial times, the Civil War, the emergence of the railroad as an economic engine, the seafood and aviation industries, and finally, changes on the peninsula post-World War II.

His findings: Maryland's Eastern Shore has more in common with Western Maryland and the rest of the state — and less in common with Eastern Shore Virginia and lower Delaware — than many of its residents may care to admit. Factors include income, ethnicity and family foundations, he said.

For that reason, LeBel recommended, though the issue "has been a periodic theme in the political landscape," that the Delmarva Peninsula remain divided among its current state boundaries.

The book has drawn rave reviews from many native Delmarvans and those who have adopted the peninsula as their home.

"This is not a textbook so much as it is a step-by-step depiction of the major features of Delmarva over more than four centuries and its legacy for the future," said Dr. Ray Thompson, SU professor of history and director of the University's Edward H. Nabb Research Center for Delmarva History and Culture. "It is worthwhile reading for both novice and specialist."

"When I arrived on Delmarva almost three decades ago, I was given a copy of James Michener's Chesapeake. I was told that this historical novel would help me better understand life on the Delmarva Peninsula," said Dr. Memo Diriker, director of SU's Business, Economic and Community Outreach Network. "To me, it was like a 250-piece puzzle. However, by the time I finished reading, it felt as if 50 of the most important pieces of the puzzle were missing. LeBel's State of Delmarva has, at last, given me those missing pieces."

Brice Stump, award-winning writer, photographer and local historian, called the book "unlike any other about Delmarva. I came away feeling enlightened and surprised by [LeBel's] findings. A 'must' book for every library."

For more information call 410-543-6030 or visit the SU website at www.salisbury.edu.