Wednesday, March 28, 2018
SU Launches New Colombian Educational Partnerships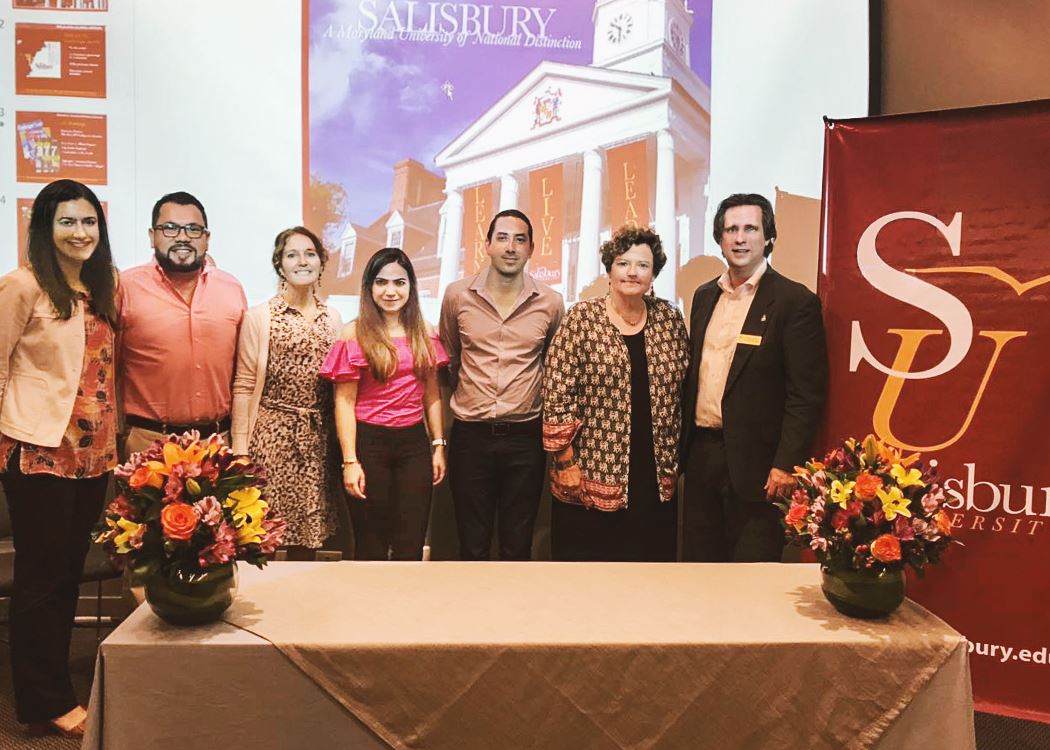 SALISBURY, MD---Salisbury University has launched a series of new partnerships with educational institutions throughout Colombia, South America. They include the Ministry of National Education and six leading university campuses.
Called Initiative Colombia, it will provide summer English training for Colombian faculty, and undergraduate research and English programs for Colombian students in Salisbury, as well as teaching opportunities for SU faculty and graduates in Colombia. SU President Janet Dudley-Eshbach recently led a delegation of campus leaders to Colombia to further develop the new collaborations.
"Colombia is an exciting place that holds much potential for SU," said Dudley-Eshbach, who also is a Spanish professor with a Ph.D. from El Colegio de México. "The recent peace accord, continued economic and social stability, and a national focus on improving education make it a productive time for partnerships in higher education."
SU's English Language Institute (ELI) piloted the first part of Initiative Colombia in summer 2017, running an intensive English immersion program for 20 teaching faculty from the Universidad de la Costa. Dudley-Eshbach signed agreements with leaders of that university and five others (Institución Universitaria ITSA, Universidad Libre, Universidad del Atlántico, Corporación Universitaria del Carib, and La Tecnológico de Atlántico) to continue the program this summer with more Colombian faculty enrolling.
The second part of Initiative Colombia is planned with the Colombian Ministry of National Education. Its Administrative Department of Science, Technology and Education (known as COLCIENCIAS) selected SU from U.S. university applicants to partner with the Department of Huila (one of 32 municipal subdivisions) on a semester-long program that combines undergraduate research with English language training through SU's ELI. During spring 2019, SU expects 10 undergraduates from Huila to live on campus in Salisbury. The SU delegation met with Huila's Governor Carlos Julio González Villa and university leaders to advance this project.
"The Nexo Global program with COLCIENCIAS is an innovative effort to engage more Colombian young people in research and to inspire them to continue their academic careers," said Dr. Brian Stiegler, SU's assistant provost for international education. "SU is pleased to have been selected to participate."
Initiative Colombia also includes opportunities for Salisbury faculty and graduates to help strengthen education within Colombia through a visiting teacher program. Dudley-Eshbach signed agreements with Universidad de la Costa and Universidad Colombo to allow full-time and part-time faculty from SU to teach intensive two- to four-week modules in English in a variety of disciplines, and engage in longer visiting positions during sabbaticals. The campuses, respectively, are located in Barranquilla, a port city famed for its literary and artistic history and colorful Carnival, and neighboring Cartagena, recognized for its Spanish colonial history, afro-Caribbean culture and beautiful beaches. In addition, SU bachelor's and master's graduates will have opportunities to teach English and other content areas with partners abroad.
For more information on SU's Initiative Colombia, visit www.salisbury.edu/intled.