Friday, February 6, 2009
SU Junior Earns Prestigious Gilman Scholarship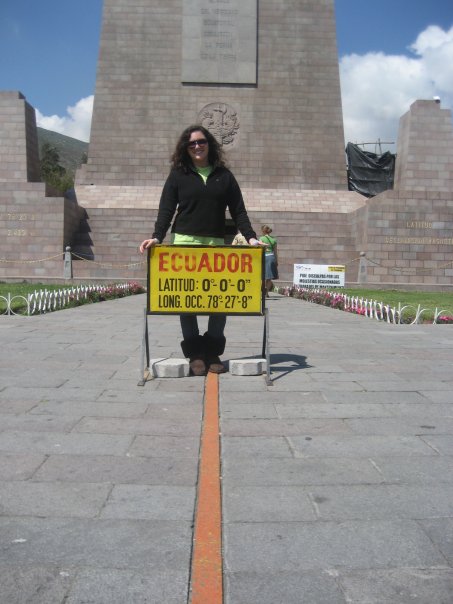 SALISBURY, MD--- For the third time in two years, a Salisbury University student has been awarded the prestigious Benjamin A. Gilman International Scholarship for study abroad.
Junior Kirsten Tannen, a communication arts major, and history and Spanish minor, in SU's Fulton School of Liberal Arts is one of only 800 American undergraduates from over 320 colleges and universities nationwide to receive the award.
A 2006 graduate of St. John the Baptist Diocesan High School in Fire Island, NY, Tannen used the scholarship to study Latin American communications during SU's Intersession in Ecuador Program. Now in its 14th year, the Intersession was December 26-January 24, in the colonial city of Cuenca, Ecuador, nestled in the Andes Mountains at over 8,000 feet.
"I never thought I could fall in love with a country the way I did," she said. "In the short amount of time I was there I adapted and felt attached to the rich culture and history. It was an experience of a lifetime and that I'll never forget." Apparently, the month-long program was too short for her—she already is planning to return to Ecuador for the entire fall 2009 semester.
One of the selection criteria for the Gilman Scholarship is a "follow-on service project" designed to promote study abroad in students' home communities. Tannen created a new Global Service Club at SU. Her idea is to involve SU students in raising funds throughout the year to support social outreach to worthy causes around the world. The club has already held its first meeting.
The Gilman Scholarship aims to diversify the kinds of students who study abroad and the countries and regions where they travel. The program is sponsored by the U.S. Department of State Bureau of Educational and Cultural Affairs and administered by the Institute of International Education (IIE). Scholars receive up to $8,000.
"The rate of success Salisbury University students have had in winning Gilman Scholarships is a tremendous accomplishment," said Dr. Brian Stiegler, director of the Center for International Education. "SU is committed to promoting the goals of the Gilman Scholarship of making international education accessible to all students."
"Living and learning in a vastly different environment of another nation not only exposes students to alternate views, but also adds an enriching social and cultural experience," said U.S. Congressman Gilman, who retired in 2002 after serving 30 years and chairing the Foreign Relations Committee. "It also provides students the opportunity to return home with a deeper understanding of their place in the world, encouraging them to be a contributor, rather than a spectator in the international community."
To be eligible for a Gilman scholarship, students must be receiving a Federal Pell Grant during that semester. Programs must be a minimum of four weeks and summer-only programs are not eligible. Preference is given to minority students, first-time travelers, applicants from Science, Technology, Engineering and Math (STEM) fields and applicants studying outside Western Europe and Australia. Some 1300 scholarships will be given in the next academic year.
Applications for fall 2009 Gilman scholarships are due Tuesday, April 7. More information and an application are available through the SU Center for International Education Web site at www.salisbury.edu/intled/studyabroad/financialaid/gilman/gilman.html. Or contact Stiegler at bnstiegler@salisbury.edu.