Wednesday, September 17, 2014
SU Inaugurates Pedestrian Safety Campaign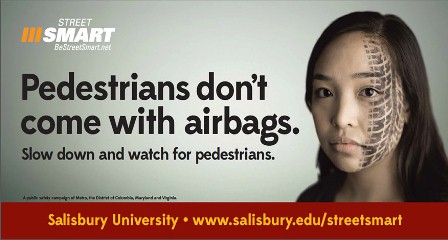 SALISBURY, MD---Salisbury University is sending a message to members of the campus and surrounding community: Please help keep pedestrians safe.
With many on-campus students crossing U.S. 13 and other streets to visit restaurants and shops in the area, as well as commuter students walking to campus, pedestrians near the University share the road with motorists and cyclists every day, said Mentha Hynes-Wilson, SU associate vice president of student affairs.
A continuing campaign, including outreach to area neighborhoods, as well as a thought-provoking billboard on U.S. 13, warning that "Pedestrians don't come with airbags," encourages drivers to be aware of those on foot. Students also are urged to be cautious and obey the law when crossing streets.
The initiative follows last year's installation of pedestrian crossing lights at a crosswalk on Camden Avenue near SU's Scarborough Leadership Center. When activated, the lights alert drivers that the crosswalk is in use. Maryland law requires motorists to stop for pedestrians in crosswalks.
For more information call 410-543-6030 or visit the SU Web site at www.salisbury.edu.