Tuesday, April 5, 2016
SU Hosts 'Remembering Syria' Art, Music Presentation April 5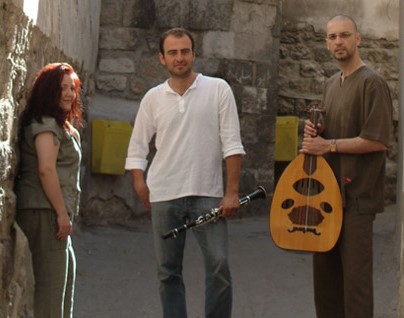 SALISBURY, MD---Syria's capital and largest city, Damascus, has long been one of the Arab world's centers for cultural and artistic innovation.

Salisbury University showcases the arts that helped Damascus earn that title during the presentation "Remembering Syria" 7 p.m. Tuesday, April 5, in Holloway Hall Auditorium.

Enass Khansa, Andrew W. Mellon postdoctoral fellow at Harvard University, serves as the Syrian host of the evening's events. The presentation includes Syrian art in the lobby of Holloway Hall, as well as a performance by the band Hewar.

Featuring Kinan Azmeth on clarinet, Issam Rafea on oud and Dima Orsho on voice, Hewar (the Arabic word for "dialog") delivers adventurous music inspired — but not limited — by Arabic traditions. The band has toured the U.S., Europe, Japan and the Middle East and released three albums since its inception in 2003.



Born in Damascus, Kinan has been hailed as a "virtuoso" and "intensely soulful" by The New York Times and "spellbinding" by The New Yorker. A graduate of the Juilliard School and a member of Yo-Yo Ma's Silk Road Ensemble, he has performed at venues including London's Royal Albert Hall, Paris' Opera Bastille, Moscow's Tchaikovsky Grand Hall and the Damascus Opera House.

His U.S. performances have included Carnegie Hall, Alice Tully Hall, the Library of Congress and the Kennedy Center for the Performing Arts.

The winner of the Best Composer Award at the Dubai International Film Festival, Rafea is the former chair of the Arabic Music Department at Damascus' High Institute of Music and past principal conductor of the Syrian National Orchestra for Arabic Music. In 2013, he was invited to the U.S. to direct the Middle Eastern Music Ensemble at Northern Illinois University. In Illinois, he continues to perform, compose and teach.

Orsho has sung and composed for television, radio, theatre and film since 1993. A native of Damascus, she has performed throughout the Middle East, Europe and the U.S. at venues including the Kennedy Center, Library of Congress, Opera Bastille and Damascus Opera House. In 2016, she was invited to join Yo-Yo Ma and the Silk Road Ensemble as a guest artist on a new album scheduled for release this year.

Sponsored by SU's Cultural Affairs Office and World Artist Experiences, Inc., admission is free and the public is invited. For more information call 410-543-6271 or visit the SU website at www.salisbury.edu.