Friday, March 30, 2012
SU Hosts Read Green Festival and Green Earth Book Awards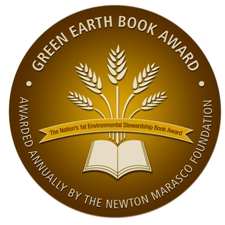 SALISBURY, MD---Acclaimed authors and illustrators, including 2012 winners of the national Green Earth Book Award, visit Salisbury University during its annual Read Green Festival April 10-14.
Events begin with a free opening reception for the "Art, Children's Literature and the Environment" exhibit 6–7 p.m. Tuesday, April 10, in the Welcome Gallery of the Ward Museum of Wildfowl Art. Brief remarks are 6:30 p.m. Showcasing works by Green Earth Book Award recipients, the exhibit runs through Sunday, June 10.
The 2012 Green Earth Book Award festivities are 5-7 p.m. Wednesday, April 11, in SU's Holloway Hall Auditorium. Given annually by the Newton Marasco Foundation (NMF), a Washington, D.C. area environmental charity, the prize is the nation's first to laud environmental stewardship in literature for children and young adults. United States Senator Barbara A. Mikulski is this year's honorary chair.
Recognized at 6 p.m. that evening are winners Cindy Trumbore and Susan L. Roth, co-authors and illustrator of The Mangrove Tree: Planting Trees to Feed Families (children's nonfiction), as well as honor book recipients Michael Caduto for Riparia's River (picture book), Claudia Davila for Luz Sees the Light (children's fiction), and Caitlyn Vernon for Nowhere Else on Earth: Standing Tall for the Great Bear Rainforest (young adult nonfiction).
Other 2012 winners are: Arthur Turns Green by Marc Brown (picture book); Wild Wings by Gill Lewis and Yuta Onoda (children's fiction); and Gaia Warriors by Nicola Davies and James Lovelock (young adult nonfiction). Four additional books also received honorable mentions.
"I invite everyone to join us in telling the story of the natural world and the importance of taking care of our planet," said Amy Marasco Newton, foundation president and founder. "These Green Earth Award winning books spark imaginations and inspire a lifetime of wonder that will set our youth on the path to become responsible environmental stewards, now and throughout their lives."
At 6:30 p.m. award-winning author/illustrator duo Janet Stevens and Susan Stevens Crummel, deliver the keynote talk. Since 1999, the sisters have collaborated on a number of books, including And the Dish Ran Away with the Spoon, Cook-A-Doodle-Doo! and the New York Times bestseller Help Me, Mr. Mutt!
They earned Maryland's Black-Eyed Susan Award for The Great Fuzz Frenzy, and two Texas Bluebonnet Awards. Stevens' Tops and Bottoms is a Caldecott honor book and she also illustrated the popular Anansi series. With rhythmic text and colorful illustrations, the sisters' books have been children's choice winners in over 16 states.
After the talk, winners of the Eastern Shore Reading Council's Young Author Contest are announced at 7 p.m.

Author and illustrator book-signings are held before and after the program in the Holloway Hall Social Room.

SU also hosts author and illustrator talks and book signing on campus and in the community.

On Wednesday, April 11, an environmental literature panel discussion is 11 a.m.-noon in SU's Teacher Education and Technology Center Room 226. On Saturday, April 14, a community event is 11 a.m.-3 p.m. at Barnes & Noble in Salisbury with music, readings and other activities.

Ward Museum gallery hours are 10 a.m.-5 p.m. Monday-Saturday, noon-5 p.m. Sunday. After the opening reception, admission is $7, $5 for seniors 60 and over, free with an SU ID. Admission to all other events is free.

For more information about the Green Earth Book Awards, visit www.NewtonMarascoFoundation.org.

For details about the festival, call 410-543-6030 or visit http://faculty.salisbury.edu/~elbond/childlitfestival.html.