Monday, February 12, 2018
SU Hosts Preview Screening of Horton's 'High Tide in Dorchester' on Feb 21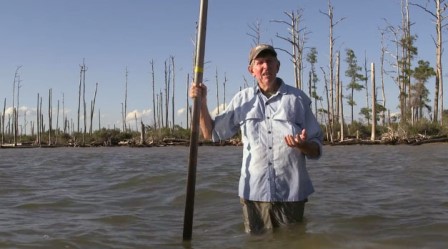 SALISBURY, MD---Want to see the potential impact of sea level rise and erosion? Just take a look at Dorchester County.

Tom Horton, professor of practice in Salisbury University's Environmental Studies Department did just that in the new film High Tide in Dorchester, co-produced with cinematographer David Harp and filmmaker Sandy Cannon Brown.

SU hosts a special preview showing of the film, before its official premiere at this year's Environmental Film Festival in Washington, D.C., as part of the University's Environmental Studies Colloquium Series 7 p.m. Wednesday, February 21, in the Patricia R. Guerrieri Academic Commons Assembly Hall.

A panel discussion with the co-producers and SU environmental studies faculty follows.

In the documentary, Horton, who spent much of his youth in Dorchester, revisits the tidal Chesapeake Bay landscapes of his childhood, many of which are now underwater.

"The latest projections for the Chesapeake region are two feet or more of sea level rise by mid-century and as much as six feet by century's end," he said. "That's a troubling combination of higher water and sinking land around the bay."

At that rate, Dorchester could slip from its position as the fourth largest of Maryland's 23 counties in land area to the 14th, he added.

For the documentary, Horton interviewed long-time Dorchester County residents, area watermen, academics and others to get an idea what changes they have seen, how those changes have impacted the area and what can be done to help preserve the community's landscape and culture going forward.

A trailer for the film was showcased on the Yale School of Forestry and Environmental Studies website YaleEnvironment360. It is Horton's second film with Harp and Brown, following Beautiful Swimmers Revisited, a 2016 examination of the Chesapeake Bay chronicled in William Warner's 1976 Pulitzer Prize-winning book Beautiful Swimmers 40 years after its publication.
An Eastern Shore native, Horton covered the environment for the Baltimore Sun for 35 years. He also has written nine books about the Chesapeake Bay and its tributaries. Additional honors include the John Burroughs Award for nature writing, the Sierra Club's prestigious David Brower Award, and accolades from the Chesapeake Bay Foundation and Audubon Society. In 2015, Maryland Governor Martin O'Malley proclaimed him an "Admiral of the Chesapeake," one of the state's highest honorary titles.
In addition to writing about the Bay as a contributor to the monthly Bay Journal and beyond, Horton is a freelance nature writer, working for National Geographic, Rolling Stone, the New York Times Magazine, Chesapeake Bay Magazine and others. His assignments have ranged from famine in Africa to the Amazon Rainforest, oil spills in Alaska and coral reefs in Australia.
Sponsored by the Environmental Studies Department, admission to the SU screening is free and the public is invited. For more information call 410-543-8105 or visit the SU website at www.salisbury.edu.