Wednesday, September 7, 2016
SU Hosts Painting Exhibit by Alumna Brooke Brittingham through Thursday, September 29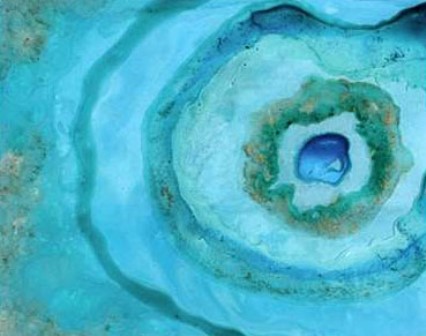 SALISBURY, MD---The Guerrieri University Center Art Space hosts the painting exhibit "Sentiment in Sediment" by Salisbury University alumna Brooke Brittingham through Thursday, September 29.

Brittingham earned her B.F.A. from SU. She combined her interest in art with a later interest in psychology to portray emotions and ideas on canvas. A native of Berlin, MD, she hopes to have her own small shop someday.

"In this body of work I take inspiration from nature and how something beautiful like a geode can be formed within an ordinary rock," she said. "Sometimes even desolation can yield beauty. In this process I am manipulating the paint but also letting go of some of the control as the colors flow together. In a sense I aim to channel the idea of nature creating its own beauty naturally and simply.

"With these works I paint on wood for a smooth surface and use resin to create a glass like appearance to not only resemble a geode nodule but to give a sense of depth. I have found that I really enjoy this look aesthetically, however while I aim to make aesthetic work I am also creating a metaphor for beauty within.

"Introspection is extremely valuable to me and holds a personal importance and influence especially when I am creating works. Because I am still discovering myself as an artist, I am looking within in an attempt to reflect on myself and to communicate my feelings in a way that words alone cannot express."

The Art Space is located in the Guerrieri Center's second-floor concourse. Admission is free and the public is invited. For more information call 410-543-6247 or visit the Art Space website at http://www.salisbury.edu/guc/artspace.