Monday, April 30, 2007
SU Hosts Estonian Folk Group May 14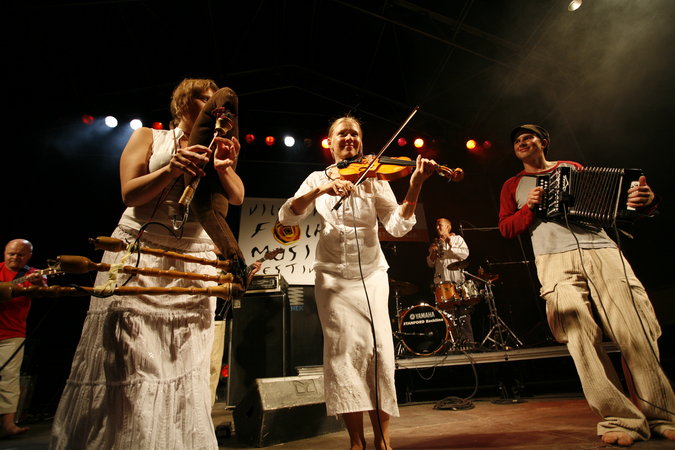 SALISBURY, MD---Playing songs based on the traditional music of its country, the Estonian folk group Vägilased performs at Salisbury University 5–7 p.m. Monday, May 14, in the Bistro of the Commons. A traditional Estonian meal will be served as part of SU's International Festival of Foods.
The band, which formed in 2000, has a unique sound that blends older instrumental pieces, traditional melodies and modern styles. Its members are graduates of Viljandi Culture Academy in Estonia.
They include: Cätlin Jaago, who sings and plays the bagpipe, flute, whistle and Jew's harp; Toomas Valk on a Russian diatonic accordion; Jan Viileberg on acoustic guitar; Marti Tärn on bass guitar; Reigo Ahven playing percussion and Marko Mägi on the saxophone.
Together, the group harmoniously merges vocal tones, natural instruments and contemporary sounds. They released their debut album Väga ilusad (Very Beautiful) in 2004 and their most recent the album Ema õpetus (Mother's Words of Wisdom) hit stores last June.
The group has played in countries including Portugal, Finland, Sweden and Scotland. Following their stop at SU, they travel to the United Nations in New York City to perform.
The dinner features roast pork with gravy, whitefish in tomato marinade, Estonian ground meat patties and garlicky potato gratin. Also served is Estonian-style sauerkraut, seasoned peas, braised red cabbage, sour cream cucumber salad, a salad bar, pickled beets, rye bread, chocolate gingerbread, snowball cookies and baked apples.
This event is sponsored by the Embassy of Estonia in co-operation with Permanent Mission of Estonia to the UN, World Artists, Inc. SU Ambassador Series, the Salisbury Sister City Association/Wicomico County, University Dining Services and the Office of Cultural Affairs.
The cost of the meal, which includes the concert, is $9.30 for adults, $5.72 for children ages 6-12. Children under 5 dine free. Reservations are not required. The public is invited.
For more information call 410-219-2872 or visit the SU Web site at www.salisbury.edu.