Wednesday, April 10, 2013
SU Hosts Annual Guitar Festival April 27-28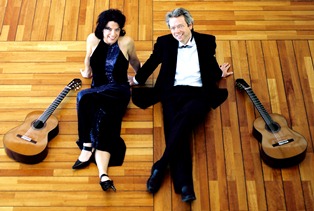 SALISBURY, MD---Young guitarists have the opportunity to participate in Salisbury University's fifth annual Guitar Festival and Competition Saturday-Sunday, April 27-28.

With full registration, students may perform in master classes for nationally and internationally acclaimed guitarists, compete in performance and play in an ensemble during the festival.

Saturday's activities focus on classical guitar. Participants may register online or during Saturday check-in from 9-9:30 a.m. in the Great Hall of Holloway Hall. Master class teachers include Amadeus Guitar Duo members Dale Kavanagh and Thomas Kirchhoff; Baroque, Classical and Romantic guitar specialist Dan Boring; guitarist-composer Van Stiefel; percussion instructor and new-music practitioner Eric Shuster; luthier David Pace; and festival director Danielle Cumming of SU's Music Department. Following master classes, Pace speaks on guitar setup at 11:30 a.m.

Playing competitions begin at 11:45 a.m. Participants compete in three age categories: 11 and under, 12-15 and 16-18. Registration deadline is Friday, April 26. For rules visit the festival Web site at www.salisbury.edu/guitarfestival.

A rhythm workshop is scheduled at 2:40 p.m. The Guitar Festival Participants Ensemble premieres a new work by Stiefel at 5 p.m. in the Great Hall, followed by featured performers the Amadeus Guitar Duo and the announcement of competition winners. (The final performance time may be adjusted to accommodate master classes and competitions based on the number of entries.) Throughout the day on Saturday, The Kirkpatrick Guitar Studio will have guitars and scores for sale in the Social Room of Holloway Hall.

The Amadeus Guitar Duo has given nearly 1,000 concerts in more than 50 countries including Europe, North and South America, and Asia. Besides its work in chamber music programs, the duo often performs in concert with large orchestras, including the Prague-Munich and Mannheimer Chamber Orchestra, Philharmonia Hungarica, President Orchestra Ankara, Philharmonic State Orchestra Halle and International Philharmonic Orchestra, among others. Sponsored by the President's Office, admission to its SU concert is free and the public is invited.

Sunday, the festival's focus shifts to all styles of guitar. Sign-in is 12:30-1 p.m. in the Social Room. Workshops include "Finger Aerobics" with emerging classical guitarist Jason Balish; "Guitar From Scratch" for beginners with Cumming; "Rock" with Philadelphia arranger, recording artist and teacher Duane Large; and "Blues" with noted musician and SU music faculty Chris English. Representatives from Salisbury's newest guitar store, The Guitar Man, also will be on hand throughout the day to discuss setup and repairs.

Classes and workshops on both days are open to all ages, skill levels and string type; however, competitions are limited to guitarists ages 18 and under.

Saturday registration is $45 for participants, $15 for parents, which includes all classes, activities and lunch. Sunday registration is $20. Admission for parents accompanying their children to Sunday's activities is free. Advance registration is available online at www.salisbury.edu/guitarfestival. Day-of registration is available, but those registering that weekend may not be assured of participation in master classes or competitions due to scheduling limitations.

The festival is sponsored by the D'Addario Foundation and Salisbury Wicomico Arts Council, with support from the National Endowment for the Arts and Maryland State Arts Council.

For more information, call Cumming at 410-677-3269, e-mail dmcumming@salisbury.edu or visit the festival Web site.