Monday, September 25, 2006
SU Hosts 33rd Oktoberfest and German Dinner October 11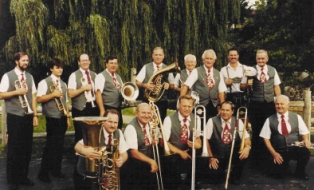 SALISBURY, MD---The Salisbury University German Club brings cultural food, games and music to campus for its 33rd annual Oktoberfest celebration Wednesday, October 11.
Scheduled from 11 a.m.-3 p.m. on the Henson Science Hall Lawn, this year's festival features the Philadelphia German Brass Band, under the direction of Peter Wilhelm Palan. The ensemble plays authentic German music, as it has throughout the East Coast for more than 70 years. The band returns for a second performance on campus that evening as part of SU's International Festival of Foods Series.
Sponsored by the German Club, the festival also features medieval knight re-enactors from the Society of Creative Anachronisms and participation by student organizations. A beer garden is available for those age 21 and older, and awards are up for grabs in six categories during a German car show.
Platters available for purchase during the afternoon event include bratwurst, sauerkraut, German potato salad, soft pretzels and a beverage. Other activities include games with prizes and a slip-and-slide. Cotton candy is also available.
The German Club sells T-shirts, books and mugs, and other campus organizations hold fundraisers as well. Local merchants also participate. The festival is free and the public is invited. Rain location is the Wicomico Room of the Guerrieri University Center.
The buffet-style German dinner in the Bistro of the Commons from 5-7 p.m., also featuring the brass band, includes Rhineland marinated beef, wiener schnitzel with red wine mushroom sauce, sauerkraut with apples and bratwurst, vegan spicy bean goulash on brown rice, spaetzel, potato pancakes, red cabbage, green beans, soft pretzels, apple strudel and German chocolate cheesecake.
Sponsored by University Dining Services and the Office of Cultural Affairs, cost of the meal is $9.30 for adults, $5.72 for children 6-12. Children 5 and under dine free.
For more information call 410-219-2782 or visit the SU Web site at www.salisbury.edu.