Tuesday, May 23, 2017
SU Honors Class Survey Informs State, Regional Leaders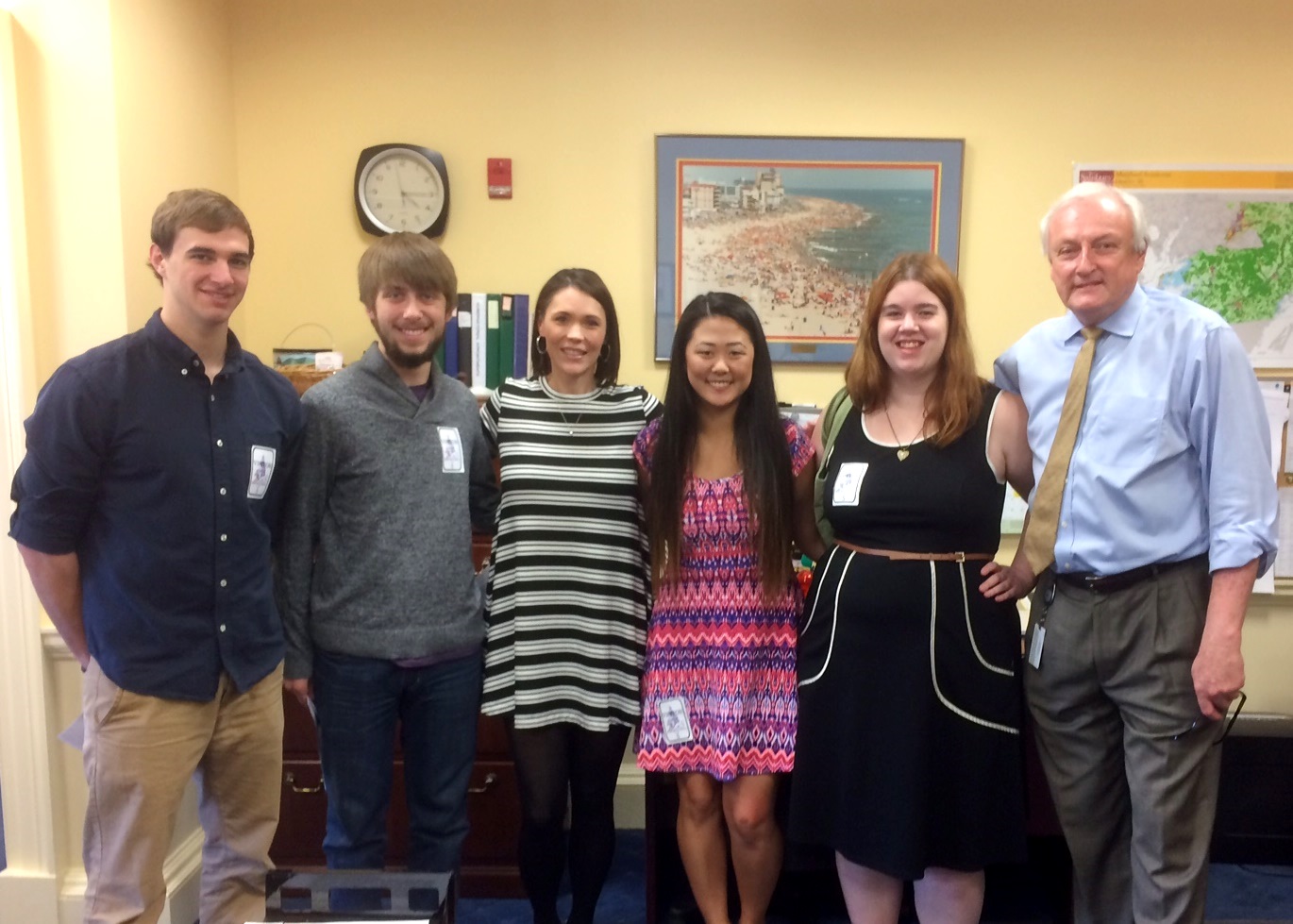 SALISBURY, MD---Student opinions on current "hot-topic" issues informed the reasoning and decision-making of area leaders this semester – thanks to a Salisbury University Honors College class.

"We surveyed students about what they thought and then presented our results to Maryland State Senator Jim Mathias, Salisbury Mayor Jake Day, City Administrator Julia Glanz and U.S. Congressman Andy Harris," said sophomore Kristy Trojan. She is one of 18 students in Dr. Robert Barber's "Mathematics of Decision Making" Honors course.

Mathias shared his view on the project saying, "It is vital I know the thoughts of my constituents regarding the many important issues we face locally, statewide and as a nation. Dr. Barber and his exceptional students, through survey, again have captured the 'real time' opinions of … the University community."

Using Survey Monkey, the class compiled 30 questions about controversial issues. National topics ranged from Trump policies, border issues and debt to climate change, firearms on campuses and Planned Parenthood funding. State matters included marijuana legalization, physician-assisted death and chicken house restrictions. Local topics included community activities, police relations, drugs and housing. All SU students were polled; nearly 1,000 responded.

"We asked a lot of questions that are very popular at this time," said sophomore Joy Hayward of Abingdon, MD. "We tried to make them as relevant as possible."



"All of the state issues directly related to legislation that was being discussed in Annapolis during this session," said Barber of SU's Mathematics and Computer Science Department. "That's how important this survey was. And, the same with the national and local questions; they were all currently on the minds of people."

"Whether the issues were immigration, safe communities, renewable energy or national security, the survey revealed the clear positions and thoughts of the participants with statistical reliability and accuracy," Mathias added. "As Senator, I thank the hard-working team, and am most proud of Salisbury University."

Sophomore Tara Ward of Fruitland said one of the most surprising responses was about raising minimum wage, which about 60 percent of students opposed. "This showed us they weren't just clicking answers randomly," she said. "They were actually putting through into 'Where is that money going to come from?'"

Freshman Sofia Carrasco of Germantown, MD, said an item about mandatory sick leave showed most students value small companies being able to set their own policies.

Senior Darby Joyce of Columbia, MD, was one of four students who presented in Annapolis. She said the senator was very interested in what they had to say, joking that "some of our results made him want to change his votes on certain issues based on what people who live here or go to school here were thinking. It seemed to me like he took it very seriously and I think he might have learned a little bit from us." Her partners, sophomore Evan Eibner of White Marsh, MD; junior Paul Fischer of Baltimore County; and Trojan of Johnsburg, IL, concurred.


Trojan, Eibner and Carrasco also presented to city officials. The mayor, they said, frequently stopped to ask for their interpretations of results. When discussing the Downtown Trolley, for example, they said he wanted to know if improvements to the city were working and had been noticed. They also shared two questions that asked if students would stay in Salisbury after graduation – the number more than tripled, if job opportunities were guaranteed.

"I was excited for the information that more than 94 percent of students feel safe in Salisbury, that nearly 70 percent are familiar with the Downtown Trolley and that some 67 percent were eager to live in Salisbury if they had a job offer," Day said. "I was impressed by the students and their work."

"It's a radical experience to take a class like this where we aren't just studying equations, but learning how math can be applied in the real world," said freshman Elizabeth Aman of Germantown, MD, a self-described English major who "doesn't like math." The course included students from all four of SU's schools.

"This was a class effort," Barber emphasized. "The students were empowered to do this and they stepped up to the plate."

For some, that meant meeting preliminary with officials in advance of the survey to refine initial questions and gauge topics of high interest. Trojan and Eibner spoke with Glanz downtown; Fischer and Barber went to Annapolis.

"We wanted to see if there were any questions the senator wanted to add or change, and he got us information on the different bills being debated," Fischer said.

The students' statistical analysis included hypothesis testing, margins of error, confidence internals, chi-square analysis and more. They were pleased to have a representative sample with demographics of respondents, such as class year, aligning with the overall University.

"I appreciate how much our professor got us involved," Ward said. "It was very insightful to look inside my own City and how it works."

"In the Honors College, you get some of the best professors on campus," Hayward added. "They have a lot of passion about their job and you can tell they care about what they are doing. Dr. Barber planned so much to make sure to we have an impact on the surrounding area. Honors is a great experience."

For more information call 410-543-6030 or visit the SU website at www.salisbury.edu.