Friday, March 14, 2014
SU Honors 169 with Service Awards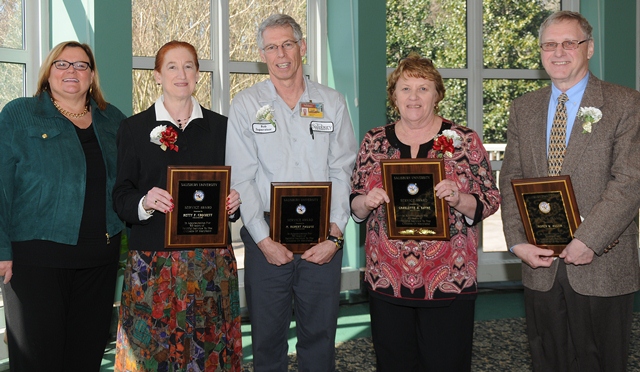 SALISBURY, MD---Some 169 employees were honored for more than 2,180 years of combined service during SU's 2014 Staff and Faculty Service Awards celebration.
Pictured, from left, are President Janet Dudley-Eshbach with Betty Crockett, vice president of Administration and Finance (30 years); Bob Maddux of Physical Plant (30 years); Charlotte Rayne of Financial Services (40 years); and Dr. Homer Austin of the Mathematics and Computer Science Department (30 years).
Other honorees, not pictured, include Dr. Natalie Hopson of the Psychology Department (35 years), Kathryn Kalmanson and Lesley Schiff of Blackwell Library (30 years each), and Charles Palmer of Dining Services (30 years).
For more information call 410-543-6030 or visit the SU website at www.salisbury.edu.