Monday, September 25, 2006
SU Homecoming Weekend and Family Day October 13-14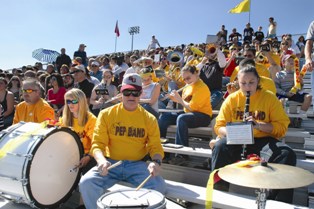 SALISBURY, MD---From a block party to athletics and reunions, Salisbury University's 2006 Homecoming Weekend and Family Day are packed with excitement for families, students and alumni alike.
Homecoming events begin Friday, October 13. Daytime highlights include a golf tournament 10 a.m. at Nutters Crossing Golf Course and a powderpuff football game sponsored by the Residence Hall Association at 3 p.m.
The SU Athletics Hall of Fame inducts five new members during its annual banquet 6 p.m. in the Wicomico Room of the Guerrieri University Center. They are: All-American baseball captain and MVP Joe Powell (1975); cross-country and track and field multiple record holder Robert Cannon (1980); 1995 national midfielder of the year and All-American lacrosse player Dan Mergott (1995); twice-named basketball team captain and MVP Kim Andrikanich (1995); and NCAA career point total record holder and all-American lacrosse player Jason Coffman (1996). Admission is $30, $25 for past inductees. Pre-registration is required.
Activities continue at 7 p.m. in Caruthers Hall Auditorium with a free showing of Over the Hedge, sponsored by the Student Office for Activity Planning (SOAP). At 8 p.m., the Bobbi Biron Theatre Program presents Noel Coward's Hay Fever in the Black Box Theatre of Fulton Hall. Admission is $12, $10 for seniors. A second showing is Saturday at 8 p.m. Hypnotist Michael C. Anthony closes out Friday's activities with a free performance in Holloway Hall Auditorium 8:30 p.m.
Saturday is Family Day, and parents can see slides of what their students accomplished during this summer's New Student Seminar Outdoor Program from 10-11 a.m. in the Wicomico and Nanticoke rooms of the Guerrieri Center. Families and alumni are invited to the multiethnic alumni brunch from 9 - 11 a.m. in the Bistro of the Commons. Featured speaker is Maryland Delegate Talmadge Branch (Class of 1980). Pre-registration is required. Admission is $25 for adults, $7.50 for children 6-11.
The Student Government Association hosts a Homecoming Block Party noon-6 p.m. on Wayne Street at the Intramural Fields. The community is invited to enjoy games and other activities, as well as inflatables provided by SOAP.
The Sea Gulls take on Morrisville State College of New York during this year's Homecoming football game at 1 p.m. Admission is $4, $2 for non-SU students, $1 for children 12 and under. SU ID holders receive one ticket free.
At halftime Dr. Norman C. Crawford Jr., president of SU from 1970-1980, receives the Spirit of Salisbury University Award, presented to select individuals who have made continuous and notable contributions to the mission, quality and character of SU. Crawford has long been a proponent of Sea Gull athletics, as well as women's intercollegiate sports.
Activities that evening include the second annual New Student "X"perience Talent Show 7:30 p.m. in Holloway Hall Auditorium. Prizes are awarded for the top three performances by freshmen, and first-semester transfer students.
Admission to all events is free unless otherwise noted. Special invitations are required to participate in some reunion events. For more information call 410-543-6042 or 410-543-6100, or visit the SU Web site at www.salisbury.edu.