Thursday, March 25, 2010
SU Holds Children's and Young Adult Literature Festival
SALISBURY, MD--- The 2010 Children's and Young Adult Literature Festival at Salisbury University features something for everyone, from avid readers to aspiring writers to environmental advocates. Events are Thursday-Saturday, April 8-10.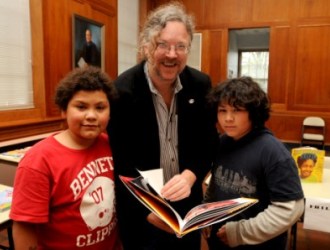 "If you are looking for free activities for the whole family to enjoy, this year's festival is the place to be," said Dr. Ernie Bond of SU's Teacher Education Department. "World renowned authors and winners of the sixth annual Green Earth Book Awards will be on campus, and we are extremely excited."
Public events begin Thursday, April 8 with a keynote address by New York Times bestselling author Michael Buckley at 6 p.m. in Holloway Hall Auditorium. Buckley is the author of the wildly successful Sisters Grimm series, and is getting rave reviews for his new series NERDS. He also produces and writes Horrorbots, expected to be a hit show on the Cartoon Network. Buckley formerly has been a stand-up comedian, punk rock band singer, Late Show with David Letterman intern and MTV writer. Winners of the Eastern Shore Reading Council's Young Author Contest will be attending Buckley's talk and will hold their awards ceremony in the auditorium immediately afterwards.
Buckley's talk is followed by a book signing and reception with 2010 Green Earth Book Award-winning authors at 7 p.m. in the Social Room of Holloway Hall. Given annually by the Newton Marasco Foundation, the award is the nation's first to laud environmental stewardship in children's and young adult literature. Recipients in attendance include Eileen Spinelli, Anne Kennedy, Marfe Ferguson Delano and S. Terrill French.
The evening concludes with an Eastern Shore Writing Project sponsored presentation by author Peter Gould at 7:45 p.m. in the Great Hall of Holloway Hall. A youth theater director, physical comedy performer and playwright whose works have been performed worldwide, Gould won a 2009 Green Earth Book Award for his novel Write Naked.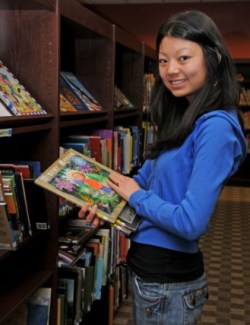 Literature Festival events continue Friday, April 9, with author and illustrator panels. Lectures by the Green Earth Book Award-winning authors include Spinelli and Kennedy at 9 a.m., French at 10 a.m. and Delano at 1 p.m., all in the Teacher Education and Technology Center, Room 153. Buckley will speak in the same location at 11 a.m. Gould presents a physical comedy workshop at 9 a.m., and a talk on Shakespeare and writing at 11 a.m., both in the Black Box Theatre in Fulton Hall.
The festival concludes Saturday, April 10, with a community day at Barnes & Noble in Salisbury. Local organizations, including the Ward Museum of Wildfowl Art, will be on hand with environmental information and Green Earth Book Award winners will sign books from 10 a.m.–12:30 p.m.
For more information, call the Teacher Education Department at 410-543-6509 or visit the literature festival Web site at http://faculty.salisbury.edu/~elbond/childlitfestival.html.