Friday, May 30, 2014
SU Graduates Seventh Elementary Education Cohort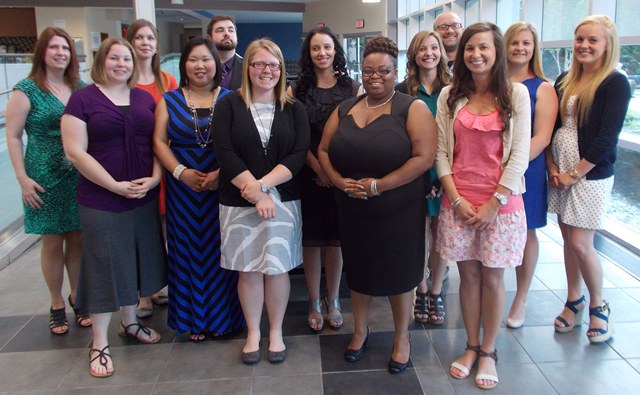 Front row, from left: Brittany Shay, Angela Gardner, Amanda Biddle, Shanise Perry, and Brooke Marvel. Top row, from left: Heather Krebs, Kari Register, James Schultz, Shannon Ryan, Jordan Tieder, Chad Lane, Juli Dean, and Cindy Sindorf. Not pictured: Valerie Lindauer.
SALISBURY, MD---When Salisbury University conferred degrees during its 88th-year Spring Commencement ceremony at the Wicomico Youth & Civic Center, it was a celebration for students from more than one campus.
Fourteen students from SU's Elementary Education Cohort Program accepted their diplomas along with traditional graduates during the ceremony, representing the largest graduating cohort to date. Most previously completed the A.A.T. program at Chesapeake College in Wye Mills, MD.
A celebration was held at the Eastern Shore Higher Education Center (ESHEC) at Chesapeake College. Representatives from both campuses, along with family and friends, gathered to recognize the accomplishments of this unique group of students.
Cohort members reside on the Mid- and Upper Eastern Shore. The program allows them to complete their elementary education degree through SU while attending cohort classes at the ESHEC. Among this year's graduates are Amanda Biddle and Heather Krebs of Greensboro; Juli Dean of Denton; Angela Gardner of Barclay; Chad Lane of Wye Mills; Valerie Lindauer of Abingdon; Brooke Marvel of Galena; Shanise Perry of Cambridge; Kari Register of Grasonville; Shannon Ryan of Easton; James Schultz of Ridgely; Brittany Shay of Trappe; Cindy Sindorf of Stevensville; and Jordan Tieder of Taylors Island.
Members graduating this spring composed the seventh cohort of teacher candidates. An eighth cohort has completed its first year in the program, and plans are underway for a new cohort to begin in the fall.
For more information contact Sara Elburn at 410-677-6705 or sjelburn@salisbury.edu.