Thursday, October 15, 2015
SU Gives Back During Maryland Charity Campaign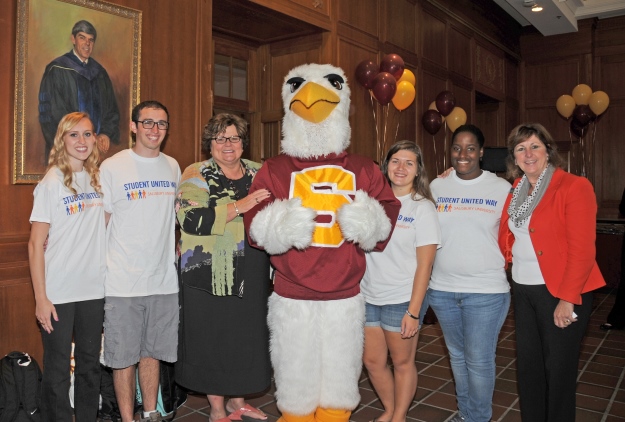 SALISBURY, MD---Salisbury University faculty and staff are giving back to others during the 2015 Maryland Charity Campaign.
A celebratory kick-off event in the Great Hall of Holloway Hall featured Sammy the Sea Gull, the SU cheerleaders and refreshments. Those who already had donated won giveaways and prizes, including gift certificates, a Fitbit and a Microsoft Surface tablet.
Over 700 charities statewide participate in the campaign. Attendees heard from the executive directors of two local options: Greg Prince of the SU Foundation, Inc. talked about the opportunity to support SU programs and student scholarships. Kathleen Momme of the United Way of the Lower Eastern Shore discussed the 67 area programs it funds and the support it receives from SU's Student United Way Chapter (the first in the state).
"Every dollar really does make a difference," SU President Janet Dudley-Eshbach told attendees.
Pictured, from left, are SU students Maria Kolar and Drew Lacouture; Dudley-Eshbach and Sammy the Sea Gull; students Katie Kirby and Lauryn Mackall; and Momme. The students are all members of SU's Student United Way Chapter; Kolar is the group's public relations coordinator.
For more information, visit the Maryland Charity Campaign website at www.mdcharity.org.