Monday, August 13, 2012
SU Galleries Presents 'Intersection of Art and Music' August 27-September 27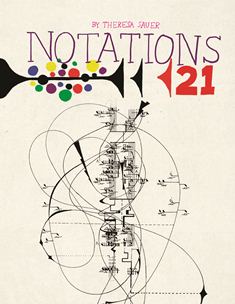 SALISBURY, MD---Composer Theresa Sauer captured the imagination of musicologists and artists worldwide with her book and ongoing project Notations 21.

She speaks as part of the exhibit "Audio-Visual: The Intersection of Art and Music," on display at the University Gallery of Salisbury University's Fulton Hall August 27-September 27. Her talk is 5 p.m. Thursday, September 20, in Fulton Hall Room 111, followed by a reception from 6-8 p.m. in the gallery.

Notations 21 is an anthology based on John Cage's seminal work, particularly his musical scores that were liberated from the traditional staff and are essentially graphic in nature. Since the 1960s, thousands of composers have developed unique or graphical styles of notation. Some 160 are compiled in the book.

Inspired by this book, the SU exhibit features visual scores and sculptural scores, paintings, photographs and other installations. Artists included in this exhibition are: Nathalie Miebach, David Ellis, Hans Schmitt-Matzen and Gieves Anderson, John Cage, the PIMA Group and Near East Family.

Performances at the gallery in connection with the exhibit include PIMA Group and Near East Family 6 p.m. Saturday, September 22.

Founded by dancer and choreographer Melisa Putz, and musicians Michael Barker and Thomas Clark, PIMA Group is a non-profit dance and music company based in Philadelphia. Featuring David and Tara Gladden, music faculty from SU and the University of Maryland Eastern Shore, Near East Family has worked in collaborative media including live cinema performance, audio-visual installations, sound art, recording, animation and public art projects.

Gallery hours are 11 a.m.-4 p.m. Monday-Thursday, noon-5 p.m. Friday-Saturday, other times by appointment. Admission is free and the public is invited.

For more information call 410-548-2547 or visit the University Galleries Web site at www.salisbury.edu/universitygalleries.