Tuesday, December 13, 2016
SU Foundation to Purchase 8.5 Acres on Route 13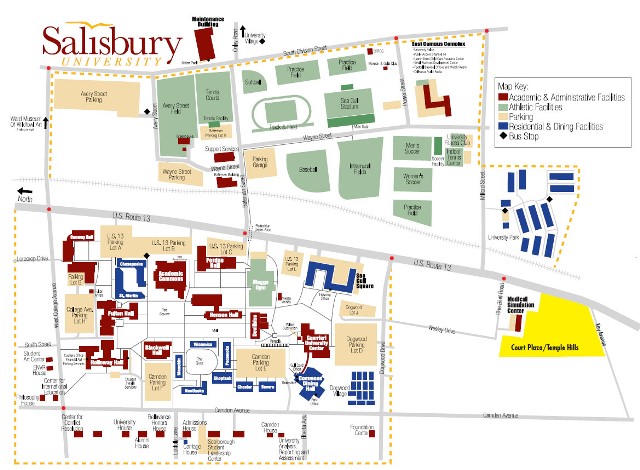 SALISBURY, MD---The Salisbury University Foundation's Board of Directors recently approved the purchase of some 8.5 acres of land south of main campus on Route 13. The properties include the Court Plaza Shopping Center, home to several businesses; the former Temple Hill Motel, which is currently boarded up and closed; and 307 Kay Avenue, a commercial office building also in use. The purchase price is $6 million.

This will bolster the campus footprint to its largest size to date — over 200 acres.

According to SU Foundation officials, Court Plaza will remain in operation. All existing leases will be honored and other businesses will be encouraged to locate there. Leases in the Kay Avenue property also will continue. The Temple Hill buildings will be demolished.

No decision on future SU use of the properties has been made.

"The mission of the Salisbury University Foundation, Inc., is to accumulate funds and investments that enrich the educational programs and activities benefiting SU and its students," said Bob Moore, Foundation Board chairman. "The location of the properties, fairly contiguous to campus, was significant. It gives the University flexibility in the near and long term future for growth and expansion."

"The University is greatly appreciative of the vision of the SU Foundation and its chairman, Bob Moore," said President Janet Dudley-Eshbach. "The University is poised for growth and these property acquisitions represent opportunities for future development. Salisbury University's stature as one of the nation's finest public universities is due in no small part to the work of the SU Foundation."

Possible uses of the properties will be tied to the mission of the campus and could range from academic, research and laboratory spaces, to student housing, a welcome center, parking and/or support services.

The seller is Delcon International. Settlement is expected in early 2017.

For more information visit the SU website at www.salisbury.edu or call 410-543-6030.