Monday, June 30, 2014
SU Foundation Honors Three Retiring Board Members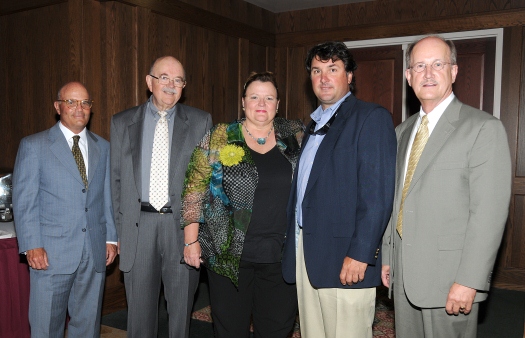 SALISBURY, MD---The Salisbury University Foundation, Inc. has honored three retiring members of its board of directors: Richard A. Givens II, Dr. Peter Jackson and Peter A. Roskovich. Combined, they have served for some three decades.

"Mr. Givens, Dr. Jackson and Mr. Roskovich are, and will remain, remarkable friends of the University," said T. Greg Prince, Foundation executive director. "All have been generous supporters of our President's Club and various aspects of campus life, ranging from athletics to the arts. We are most grateful for the dedication that they have shown over the years."

A two-time SU graduate, Givens earned degrees in liberal studies/music and in business administration. Since joining the board in 2002, he has served in nearly every capacity, including chair, vice chair and treasurer. A retired senior fiscal administrative officer for the Delaware Treasurer's Office, he also contributed expertise to the Investment, Audit, Gifts and Development, and Public Radio committees over the years. During Campaign 2012, he championed campus enhancement efforts. He is a member of SU's Sea Gull and Holloway societies.

Jackson and Roskovich both joined the board in 2005 and are Benefactors Circle supporters.

Jackson was a dedicated leader of the Grants and Public Radio committees for many years, helping award funding to deserving faculty, staff and students, and advocating for the WSCL/WSDL stations. He and his wife, Judy, are generous contributors to the Salisbury Symphony Orchestra, having guided its board and built up its endowment with a challenge grant and planned gift. They also have supported SU music ensembles with the Jackson Music Performance Fund and brought musicians to campus through the Jackson Chamber Music Series. They, too, are members of the Sea Gull and Holloway societies.

Roskovich is a 1988 SU graduate who earned his B.A. in communication arts. While on the board, he has chaired its Nominations Committee. A former SU lacrosse player who has remained an unwavering supporter of Sea Gull athletics, he is a member of SU's Varsity Club and has served on the Foundation's Golf Classic Committee. The owner of Adam's Taphouse Grille and Black Diamond Catering, he supports many University and Foundation events with catering.

Pictured (above, from left) are Foundation Board Chair Charles T. Capute, Jackson, SU President Janet Dudley-Eshbach, Roskovich and Givens.

For more information call 410-543-6030 or visit the SU website at www.salisbury.edu.