Monday, March 11, 2013
SU Foundation Awards Marshall Moore Scholarships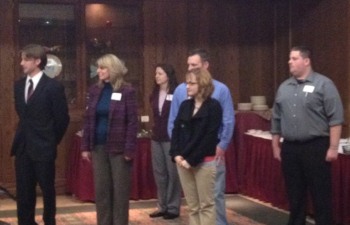 SALISBURY, MD---One the recipients of the Salisbury University Foundation, Inc.'s 2013 Marshall W. Moore Scholarship is a 42-year-old Hungarian immigrant who is finally pursing a love of math that has existed, largely untapped, since her youth. Another is a veteran of the wars in Iraq and Afghanistan. Several are pursing social work degrees after life-changing experiences of their own.

All 11 recipients of the $1,000 scholarship are non-traditional SU students with demonstrated academic excellence and a desire to achieve.

The annual award honors the Foundation's longest-serving original member, Marshall Moore, a 1948 graduate of the University. Fellow board members created and financed the nearly $200,000 scholarship endowment upon his retirement in 2006.

Selected from among some 27 applicants, this year's recipients are: Dmitry Anisimov, a fine arts major and Russian native who now lives in Ocean City, MD; Rebecca Armiger, of Ridgely, MD, who enrolled in SU's satellite elementary education cohort in Wye Mills after being a classroom assistant; William Barron, a sociology major and environmental studies minor from Columbia, MD, who has spearheaded gardening initiatives on campus; and Cheryl Fehr, a social work major from Federalsburg, MD, who wants to assist geriatric populations.

Also, veteran Shannon Gallagher of Millsboro, DE, who is studying anthropology; Nora Koon of East Petersburg, PA, who is studying GIS and environmental and land use planning; Brenda Miller of North East, MD, who is nearing completion of a B.A.S.W.; Nick Ross, a biology major from Salisbury; Marta Shelton of Pocomoke City, MD, who fled Romania two decades ago and started a small computer business; and Deborah Weems, a grandmother from Preston, MD, who plans to use her social work degree through her church. An award for Ann Buzzard of Laurel, MD, also was renewed.

Pictured (above, from left) at a recent SU Foundation board meeting are Ross, Fehr, Buzzard, Gallagher, Koon and Barron.

SU juniors and seniors with a minimum 3.0 GPA are eligible for the scholarship, with preference given to those with financial need.

Moore and other University friends established the SU Foundation in 1973. During his 33 years of service, Moore helped grow the fundraising arm and, with his wife Ruth, supported campus organizations including the May Literacy Lab, Ward Museum of Wildfowl Art and Salisbury Symphony Orchestra. They also supported scholarships and construction of the Alumni House. In addition, Moore served on boards for the Alumni Association, Ward Museum and SU Real Estate.

Since its creation, the SU Foundation has enriched the academic growth and physical expansion of SU through the support of student scholarships, faculty research, new facilities and community outreach. This year, it celebrates 40 years of encouraging educational excellence.

For more information call 410-543-6030 or visit the SU Web site at www.salisbury.edu.