Thursday, March 8, 2018
SU Faculty and Staff Honored at Annual Service Awards Luncheon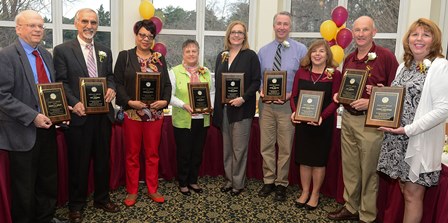 SALISBURY, MD---With five to 45 years of service, some 177 faculty and staff were honored at Salisbury University's annual Service Awards Luncheon recently held at the Commons on campus.
The total number of years: 2,310, stretched end to end, would have taken the room back in history to 293 B.C.
At the luncheon, senior staff member Debra Bailey of the Physical Plant, was honored for 45 years of service. Debbie Merryweather (Administration and Finance) and Edwin Townsend (Physical Plant) were honored for 40 years.
Also recognized were Dr. Pat Lamboni (Athletics), Fatollah Salimian (Information and Decision Sciences) and Dr. Robert Tardiff (Mathematics and Computer Science) for 35 years; and William Adkins (Richard A. Henson School of Science and Technology), Priscilla Davis (Academic Affairs), Sydney Geesaman (Samuel W. and Marilyn C. Seidel School of Education and Professional Studies), Melinda Khazeh (Alumni Relations and Annual Giving), Kathy Pusey (Publications), Dr. David Rieck (Chemistry) and Wayne Shelton (Facilities Planning and Capital Projects) for 30 years.
Pictured, from left, are Tardiff, Salimian, Davis, Bailey, Khazeh, Shelton, Pusey, Lamboni and Geesaman.
For more information call 410-543-6030 or visit the SU website at www.salisbury.edu.