Friday, September 18, 2015
SU Faculty, Student Sculpture to Be Dedicated Sept. 21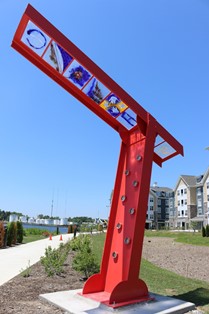 SALISBURY, MD---A 16-foot glass and metal public sculpture made by Salisbury University art faculty and students will be dedicated during the grand opening of the Rivers Edge Apartments and Studio for the Arts on Monday, September 21, at 1 p.m.
Rivers Edge is a complex providing homes for local artists. The colorful sculpture, by Steven Durow with students Elena Taylor, Jason Giusti, Riley Greenwood, Ryan Mariner, Chris Foreman and Rachel Price was inspired, in part, by the SU professor's first contacts with the Chesapeake Bay Bridge when he traveled here from New Orleans.
Composed of two tons of glass and steel, the latter is recycled from old beams taken from the site. Durow, who focuses on large-scale sculpture and installations, works with glass as well as steel, stone and other materials. His art has been displayed at museums and galleries in Chicago, Cincinnati, Colorado Springs, Grand Rapids, Key West and New Orleans, among other places.
Durow moved to Salisbury just over two years ago. "As my young son and I drove across the Chesapeake Bay Bridge I glanced over at him and it struck me that everything about our lives was changing and we were truly driving into the unknown," he said. "The design of the sculpture was taken from formal elements of the Bay Bridge and, as with all bridges, it symbolizes both a connection and promise. A connection to the past and a promise of a future."
The sculpture took about a year to create.
For more information on his work, visit his websites at http://www.salisbury.edu/art/faculty/durow.html and
http://www.stevendurow.net/.