Monday, September 18, 2017
SU Faculty Present at Nursing Research Congress in Ireland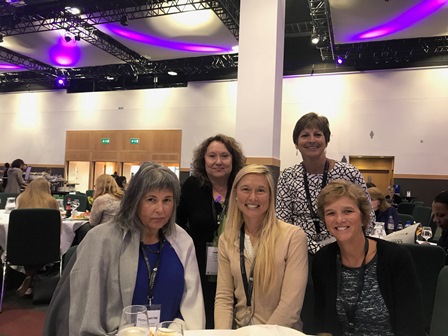 SALISBURY, MD — Patients frequently are asked to open their mouths and say, "Ahhh."
But getting nurses to open their mouths and speak out about safety concerns can require more encouragement. Medical errors recently were identified as the third-leading cause of death in the U.S., so focusing on ways to improve patient safety, such as speaking up, is needed.
Alongside the tongue depressors, there need to be "tongue energizers." Dr. Nicole Hall, assistant professor in Salisbury University's Nursing Department, is tackling the issue. In July, she presented her findings from the first phase of a study that focused on finding ways hospitals can better help nurses to speak up — and speak up she did, along with SU nursing faculty members Drs. Judy Jarosinski, Mary DiBartolo and Lisa Seldomridge, at the 28th annual Nursing Research Congress in Dublin, Ireland.
"Discussing this topic with others was such a thrill," Hall said. "Speaking up in nursing has been a passion of mine for nearly three years, so being able to talk to others, share my findings and learn about their thoughts on the matter was wonderful."
DiBartolo, who is SU's Fulton Endowed Professor of Geriatric Nursing, along with Jarosinski, an associate professor who is an expert on addictions, presented on the "Assessment and Management of Alcohol Use Disorder in Older Adults: A Review of the Evidence." This has become a very pertinent issue in the U.S. with the exponential increase in the older adult population due to aging Baby Boomers.
"The session was very well attended," DiBartolo said, "and it was satisfying to present on the topic of alcohol use in the understudied older adult population and see such interest in it from other professionals from around the world."
Seldomridge, who is a professor and director of graduate and second-degree programs in nursing, also teamed up with Jarosinski on a pair of presentations: "A Comprehensive Needs Assessment to Gauge the Impact and Extent of the Nursing Faculty Shortage" (Dr. Tina Brown Reid, an SU associate professor who did not attend the congress, also contributed to the research) and "A Structured Mentorship Program to Support Expert Clinicians in New Roles as Clinical Faculty."
The mentorship presentation was recognized by the career center of Sigma Theta Tau International — the honor society of nursing and the organizer of the congress — as vitally important to the nursing profession and invited Seldomridge and Jarosinski to author an article, which appeared in its publication "Reflections on Nursing Leadership" in July 2017, on how mentoring relationships provide support to clinical nurses transitioning to the role of faculty members.
Intermixed with her presentations, Seldomridge was able to reconnect with colleagues she had met at previous international conferences, and the SU representatives got an opportunity to network with other professionals and faculty from schools all over the globe.
"It was an interesting array of topics covered — clinical and teaching-focused — to meet everyone's interests," DiBartolo said.
For Hall, "Attending my first international conference was such a joy. I was pleased with the options for educational sessions."
Other options were extracurricular. Some of the SU professors went on a bus trip to Northern Ireland where, among numerous places, they visited Titanic Belfast (a museum), the interlocking basalt columns of Giant's Causeway and Dunluce Castle, which served as a filming location for Game of Thrones (House Greyjoy). Some made their way around other island locations, such as the Cliffs of Moher, as well as the Dingle Peninsula, where they visited one of the filming locations for Star Wars: The Force Awakens and the next installment of the series, Star Wars: The Last Jedi.
From a galaxy far, far away to "it's a small world" news, DiBartolo noted that they literally bumped into fellow Salisburian Matt McGinnis, a former SU associate director of athletics, while turning the corner to the Guinness Storehouse tour in Dublin.
Hall, on her first trip abroad, eagerly played tourist.
"Dublin was a great city," she said, "and I enjoyed talking and eating with the locals."
Overall, Ireland left Hall, who's all about speaking up, a bit speechless.
"I cannot express in words the beauty that I saw in the Irish people and the landscape," she said. "The water was teal, the towns quaint and the rolling hills expansive."
There is a word for all of that. Just open one's mouth and say, "Ahhh-inspiring."
For more information, call 410-543-6030 or visit the SU website at www.salisbury.edu.