Wednesday, April 6, 2011
SU Faculty Partners with Alumnus on Rutgers-Newark Program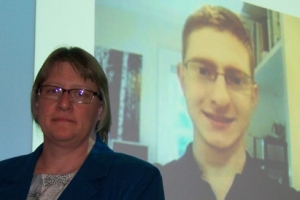 SALISBURY, MD---Last fall, the suicide of Rutgers-New Brunswick freshman Tyler Clementi raised critical questions about civility and acceptance on college campuses. As part of that university system's response, the Rutgers-Newark campus invited a Salisbury University professor to design and implement "safe zone" training on its campus.
Dr. Diana Wagner of SU's Education Specialties Department, who has been involved in campus climate work for over a decade, developed Safe Zone curricula and a training program for the Newark university, home to some 12,270 students, faculty and staff. While at Rutgers in late March, Wagner offered campus climate and sensitivity trainings to the university police force and student affairs leaders.
Wagner was invited by Shigeo Iwamiya, Rutgers-Newark's director of residence life, who earned his M.Ed. from SU in 2006. In the wake of Clementi's death, the Rutgers chancellor appointed Iwamiya to a task force charged with implementing safe zone programming.
"Having Dr. Wagner on our campus allows us to accelerate our work of creating a safe and inclusive atmosphere for our GLBT community, and create the cultural shift that is needed for our Rutgers-Newark community," said Iwamiya, who, as a student, attended an SU Horizons training that Wagner led.
Wagner's Safe Zone curriculum is designed to provide cultural awareness and resources for creating welcoming, safe and supportive campus environments, especially for gay, lesbian, bisexual and transgender (GLBT) students, faculty and staff.
"The principles of Safe Zone really apply to anyone who may not feel welcome on a campus," Wagner said. "It's about how to create environments for everyone to flourish to their complete potential." She added: "If students feel valued at institutions they are more likely to be academically successful and to be engaged as alumni. Bullying prevents that. Making a campus safe for everyone is really part of the educational mission."
To help Rutgers-Newark implement its Safe Zone program, Wagner also trained a cadre of campus leaders who will then train others within the university's divisions. In addition, she completed a campus climate assessment and held meetings with the Chancellor's Office.
Locally, Wagner has conducted two campus climate surveys for Eastern Shore public schools, examining patterns of bullying. She has co-directed SU's Horizons program and, in September, was instrumental in organizing an SU memorial service for Clementi. Wagner earned a doctorate in Educational Leadership from the University of Delaware and holds English degrees from Alverno College in Milwaukee, WI, and Arcadia University in Glenside, PA.
For more information, call 410-543-6030 or visit the SU Web site at www.salisbury.edu.