Friday, September 18, 2009
SU Faculty Go Into the Amazon--With Kids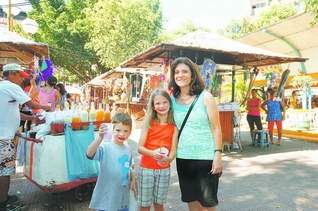 Solomon, 5, left, Ayden, 7, and their mother, Dr. Jill Caviglia-Harris, take time out from research to enjoy drinks in a marketplace.
By Candice Evans
Staff Writer
The Daily Times
SALISBURY, MD---After spending eight to 12 hours conducting research in the Amazon, Dr. Jill Caviglia-Harris and her husband wanted nothing more than to end the work day with a quiet dinner.
But relaxation in an exotic location just isn't possible with 5- and 7-year-old children in tow.
"It worked because we make such a good team," said Caviglia-Harris, 39, a professor in Salisbury University's Economics and Finance Department. "But my husband and I never got to talk."
Caviglia-Harris, along with faculty from North Carolina State University and the University of California-Santa Barbara, were awarded a $530,000 grant from the National Science Foundation to spend July doing field work in Brazil. This is her third NSF grant since her dissertation on land use patterns in deforested areas of the Amazon in 1996.
"My wife is an environmental economist who asks farmers in the region about their economic livelihood and impact on the environment," said Dr. Dan Harris of SU's Geography and Geosciences Department. "My role as a geographer has been to map the locations of the farmers interviewed as well as roads, commercial locations and health locations (in the Amazon)."
Since the brainy couple exchanged wedding vows nine years ago, Dan and Jill have made several trips abroad to work on research projects together. But until this summer, they have never taken their two children--Solomon and Ayden--along.
"Having conducted research in the region in prior years, we knew the area was very safe and had many friends that could help us with our children," said Dan, 41, who hired a nanny and housekeeper to watch his son and daughter. "Also, our kids were old enough to handle the travel rigors and to appreciate the cultural and environmental differences of Brazil."
The Salisbury parents said they were primarily concerned about illnesses such as dengue fever, a viral disease spread by mosquitoes that has no vaccine or drug to treat it.
"That was the only real worry I had for the trip," said Dan Harris, whose children received a total of seven shots at different points in their lives to offer protection in a foreign country.
While abroad, the couple alternated field days so one parent was always working within five minutes from their rented home, located in a town called Ouro Preto do Oeste. This parent also returned to eat lunch with the kids on their "nonfield" day.
"We had to do more juggling (with our schedules) having the kids," said Jill, who had trouble putting the children to bed with the research headquarters based at their rental home.
The researchers' voices kept Solomon up at night, so the "debriefing station" had to be moved to a different location, Jill said. Of course, that meant Dan would have to take the role of "stay-at-home" dad in the evening.
"That was hard," Jill said. "Because we both want to be a part of everything."
Fortunately, Solomon and Ayden were not lacking playmates in Brazil.
"Our neighbors had two daughters who played with our kids, especially our daughter, every day," Dan said.
The rented house was adjacent to a forest preserve and neighbors who had chickens, turkeys, puppies and cats to provide entertainment, Dan said.
"Our kids chased and played with animals most days," he said. "They also watched movies with the neighbors' girls and played cards and frisbee with the nanny."
Jill said the rural location offered a "kid's dream" because their were few man-made restrictions--just nature.
"When we first got there, it would take my son a half hour to get down the hill," said Jill, who watched Solomon pick up and examine rocks.
In another three to four years, Jill and Dan plan to return to the Amazon to continue their research (and if you ask the kids, they'll tell you that they plan to tag along).
Jill says it will be easier because the children will be older. Dan said "no way" at first.
But that was before the Salisbury dad remembered something.
"(I enjoyed) seeing my daughter catch chickens with her friends, painting their nails, watching my son steal eggs from the hens, swimming near the waterfalls, taking the boat ride on the river, walking through the forest and watching a group of monkeys jump from tree to tree across the road with my kids," he said.
Reprinted with permission of The Daily Times