Tuesday, December 13, 2011
SU Establishes New Graduate Students Council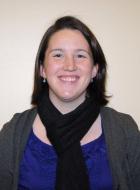 SALISBURY, MD---Salisbury University student Julia Glanz believes in the need for democratic governance processes.
As an undergraduate, she was elected president of SU's Student Government Association (SGA). Now, as she pursues a master's in conflict analysis and dispute resolution, she is spearheading the University's newest advisory body: the Graduate Students Council (GSC).
"We've had a really positive experience thus far on campus," said Glanz, a native of Southampton, NY. "Students, faculty and staff have quickly embraced that we are here."
Dedicated to aiding the intellectual, professional, personal and social development of graduate students, the GSC began early fall 2011 and officially ratified its constitution in mid-November. In addition to Glanz, officers include vice president James Russell, an M.Ed. student from Boyds, MD; treasurer Jeremy Smith, an M.B.A. student from Mardela Springs; and secretary Dawn Fiore, a conflict analysis and dispute resolution student from Joppa, MD.
The council has already tackled several issues including taxation rates graduate assistants (GAs). "Going forward we want to examine such topics as higher stipends for GAs, heath care for graduate students, job fairs and housing," Glanz said.
Shared governance is a hallmark of the leadership of SU President Janet Dudley-Eshbach. As she recently told University Business magazine, she believes it is vibrant part of campus life. In addition to the SGA and GSC, SU also is home to faculty and staff senates.
The approximately 30-member GSC will include at least two representatives from each of SU's 14 graduate programs. Seats are currently being filled. The group plans to continue meeting 1-2 times per month.
For more information, e-mail Glanz at jg55519@gulls.salisbury.edu or visit www.salisbury.edu/campusgov/gsc.