Tuesday, October 2, 2012
SU Environmental Studies Students Discuss Internships Tuesday, October 2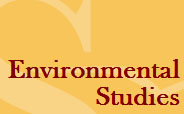 SALISBURY, MD---What is it like working at the National Aquarium? Leading disadvantaged youth through Yellowstone National Park? Interning with the Environmental Protection Agency (EPA) in the Navajo Nation? Farming in the New Mexico mountains?

Students from Salisbury University's new Environmental Studies Department share their insights into these areas during the presentation "Environmental Studies Summer Experiences" 7 p.m. Tuesday, October 2, in Henson Science Hall Room 109.

Junior Kelly Beall of West River, MD, spent her summer getting up close and personal with marine life at the National Aquarium in Baltimore. Burns, a freshman from Upper Marlboro, MD, served as a camp ranger in the back country of Yellowstone.

Through an EPA fellowship, senior Jessica Johnson of Silver Spring, MD, spent the summer assisting with the agency's project to address potential contamination from abandoned uranium mines in Arizona's Navajo Nation. Senior Alicia Kelch of Ellicott City, MD, also spent her summer out west, working on an organic farm in New Mexico as part of an experiential education program.

Sponsored by the Environmental Studies Department, admission to their discussion is free and the public is invited. For more information call 410-543-8105 or visit the SU Web site at www.salisbury.edu.