Tuesday, May 15, 2012
SU English Students Study Abroad in Iceland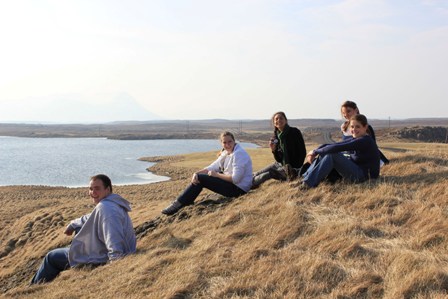 SALISBURY, MD---Students in Dr. T. Ross Leasure's "Norse Literature" course in Salisbury University's English Department recently spent their spring break studying abroad in Iceland, experiencing many of the locations and traditions they read about in class.

SU sophomore Chelsey Rhoten, who was unable to travel with her classmates, interviewed them about their experiences. Her summary follows:

"Salisbury University's Dr. T. Ross Leasure teaches an outstanding course on Norse Literature. Taking this course not only gives students the opportunity to learn about Viking traditions through Icelandic sagas and Germanic myths, but also signs them up for an experience they will never forget.

"By enrolling in Dr. Leasure's course students end up going on a weeklong excursion to Iceland over Spring Break. While in Iceland, they visit many of the sites mentioned in the sagas read for class.

"One particularly sacred place visited by the group was the Holy Mountain (or Helgafell). This mountain is sacred to Icelanders because bishops and priests have blessed it: the tradition says that if you walk up the mountain silently, you can say three wishes in your head that you wish to come true.

"One student, Yanina Maysonet, shared her experience, saying that she found being able to participate in such an important Icelandic tradition was 'rather exhilarating [and] it was lovely up there [because] the place has a sense of natural wonder and beauty.'

"Connor O'Brien was amazed with Iceland's waterfalls saying that the 'color and sound of the water are a unique combination that really speak to the natural beauty of the country.'

"Not only was visiting Iceland a chance to see the natural beauty Mother Nature has to offer, but it tied together the knowledge the sagas contain about the Vikings to the archeological sites, as proof that the sagas are not merely fictional stories. Visiting Mosfell (an archaeological dig site), the Snæfellsness Peninsula and land once owned by Snorri Sturluson was a great way for the travelers to see that the places and people mentioned in the sagas really did exist.

"The Iceland excursion was a meaningful experience that provided the class with an even better understanding of the topics discussed in the course and provided them with a lifelong memory."

For more information call 410-543-6030 or visit the SU Web site at www.salisbury.edu.