Wednesday, August 15, 2012
SU Electronic Gallery Presents 'Vertical Music' August 21-September 15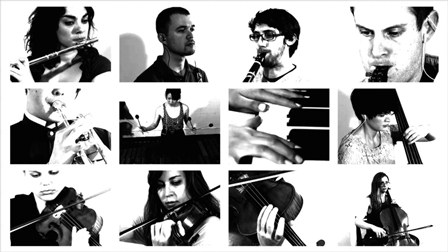 SALISBURY, MD---Salisbury University's Electronic Gallery inaugurates its Sonic Arts Series with R. Luke DuBois' "Vertical Music" August 21-September 15 in Teacher Education and Technology Center Room 128.

"Vertical Music" is a 4-and-a-half-minute chamber piece for 12 players, designed to be listened to at one-tenth of its original speed, expanding it to roughly 45 minutes. Recorded using 300fps cameras and high-definition audio, this work, along with DuBois' "The Marigny Parade" and "Fashionably Late for the Relationship," looks at alternative ways of viewing the documentation of a performance as an art form with potential for the exploration of time, nuance and gesture.

DuBois is a composer, artist and performer who explores the temporal, verbal and visual structures of cultural and personal ephemera. He holds a doctorate in music composition from Columbia University, and he has lectured and taught worldwide on interactive sound and video performance. He is the director of the Brooklyn Experimental Media Center at the Polytechnic Institute of New York University and is on the board of directors of the ISSUE Project Room. His records are available on Caipirinha/Sire, Liquid Sky, C74 and Cantaloupe Music. His artwork is represented by Bitforms gallery in New York City.

Upcoming works in the Sonic Arts Series include Pete Frosile's "Sonic Space" from September 22-October 13 and Pamela Z's "Selected Video" from October 15-31.

Gallery hours are 11 a.m.-4 p.m. Monday-Thursday, noon-5 p.m. Saturday, other times by appointment. Admission is free and the public is invited.

For more information call 410-548-2547 or visit the Electronic Gallery Web site at www.salisbury.edu/electronicgallery.