Thursday, January 17, 2013
SU Electronic Gallery Presents 'For Those Who Wait' January 28-March 13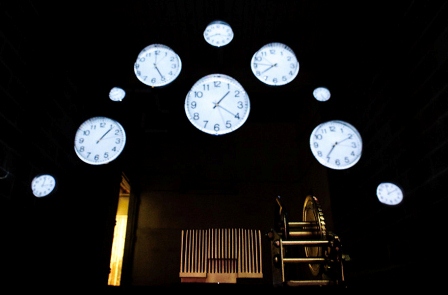 SALISBURY, MD---Time waits for no one … except visitors to Salisbury University's Electronic Gallery.

From January 28-March 13, the gallery, in Teacher Education and Technology Center (TETC) Room 128, presents new media artist Gabriel Barcia-Colombo's "For Those Who Wait."

A workshop with Barcia-Colombo is noon Wednesday, March 13, in TETC Room 352. A lecture follows at 4 p.m. in TETC Room 152.

The interactive sculpture includes 10 video-projected clocks hanging motionless, waiting to be wound via a crank. Once in motion, their hands spin out of control until the faces self-destruct in a variety of animations.

Barcia-Colombo's work focuses on memorialization and the act of leaving one's imprint for the next generation. His video sculptures play upon the exigency in culture to chronicle, preserve and wax nostalgic.

A 2012 Technology, Entertainment, Design (TED) fellow, Barcia-Colombo has exhibited at New York galleries including Elga Wimmer, 92Y Tribeca and 3rd Ward. His works also have appeared at San Francisco's Yerba Buena Arts Center.

Sponsored by University Galleries, admission is free and the public is invited. Gallery hours are 11 a.m.-5 p.m. Tuesday-Friday, 11 a.m.-4 p.m. Saturday, and other times by appointment. The gallery is closed Sundays, Mondays and holidays.

For more information visit the SU Galleries Web site at www.salisbury.edu/universitygalleries.