Wednesday, December 13, 2017
SU Door Contest Entry Salutes Wreaths Across America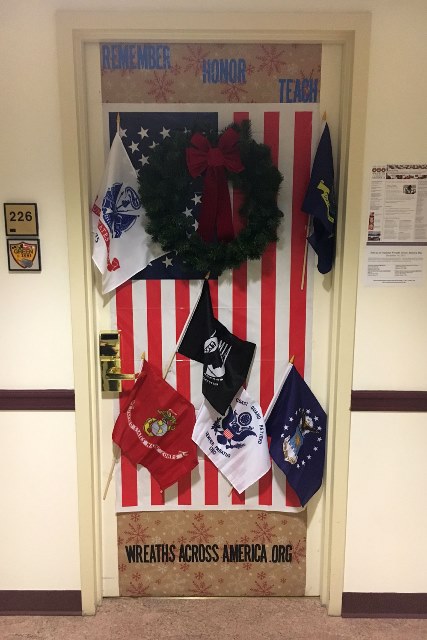 SALISBURY, MD---In 1992, Morrill Worcester, owner of the Worcester Wreath Co. of Harrington, ME, was faced with a surplus of product near the end of the holiday season.
Working with Maine Senator Olympia Snowe, he made arrangements for the leftover wreaths to be placed on veterans' graves in a section of Arlington National Cemetery. The tradition continued quietly each year until an online photo of the wreath-covered headstones went viral in 2005.
Two years later, after receiving requests from veterans' cemeteries throughout the nation for assistance in bringing similar project to their sites, Worcester and his family founded Wreaths Across America, a non-profit organization dedicated to continuing and expanding the effort.
This year, Salisbury's Parsons Cemetery is participating for the first time, and volunteer Heather Saxmann sought to spread the word through a unique canvas: her office door.
Saxmann, inventory control accountant in Salisbury University's Administration and Finance Division, adopted Wreaths Across America as the theme of her door for SU's 19th annual Holloway Hall holiday door decorating contest.
Her entry, reflecting the 2017 Wreaths Across America national theme, "I'm an American. Yes, I Am," featured the flags of each U.S. military branch, plus one saluting prisoners of war and soldiers missing in action, along with a festive wreath.
It also inspired others on her floor to adopt patriotic themes for their doors, earning them first place in the "group/multi-door" category. The winners received a pizza luncheon courtesy of SU's President's Office.
Saxmann's door, Holloway Hall Room 226, is available for viewing until Friday, December 22, when the campus closes for the holidays. Parsons Cemetery's Wreaths Across America ceremony is scheduled 10 a.m. Saturday, December 16.
Additional winners in the SU door decorating contest included Student Health Services (Holloway Hall Room 180, first place, individual/single space) and the Financial Aid Office (Holloway Hall Room 213, second place, individual/single space).
For more information call 410-543-6030 or visit the SU website at www.salisbury.edu.