Thursday, February 18, 2016
SU, Delaware Tech Announce Scholarships for Transfer Students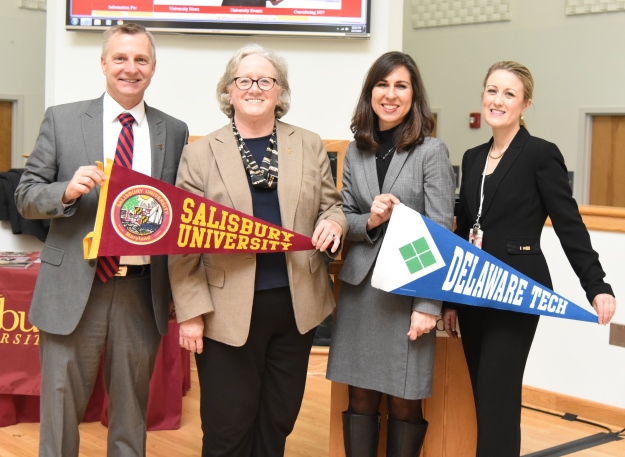 SALISBURY, MD---Representatives from Delaware Technical Community College and Salisbury University yesterday announced new scholarships available to Delaware Tech associate degree graduates who transfer to SU.

The Delmarva Partnership Scholarship program provides eligible students, who are residents of Delaware, $5,000 in scholarship funds annually to cover approximately 60 percent of the cost difference between in-state and out-of-state tuition at SU. In addition, Delaware Tech graduates may also be eligible for an additional $1,000 annual award toward a bachelor's degree at SU.

"Delaware Tech and Salisbury University have a history of partnering to provide educational opportunities to the residents of Delmarva," said Dr. Diane Allen, SU's provost and senior vice president of academic affairs. "These scholarships are further evidence of our commitment to making top-quality higher education accessible, especially to our neighbors in Delaware. They allow Delaware Tech students to pursue their degrees affordably and invest wisely in programs that prepare them for success. We look forward to developing other innovative pathways to help students achieve their educational goals."

Delaware Tech graduates gain serious financial benefits from transfer agreements between the two colleges. Transfer agreements provide graduates of several Delaware Tech programs with a streamlined transition to junior-level status in specified SU bachelor-degree majors, without a duplication of courses.

"For students, Delaware Tech's connected degrees (transfer agreements) are a great value and a smart financial decision," said Justina Sapna, vice president for academic affairs at Delaware Tech. "Delaware Tech students who graduate from a connected degree program leverage their first two years of college through our affordable tuition and reduce the overall cost of a bachelor's degree by transferring to a college like Salisbury University where they are accepted as juniors – and they offer scholarship incentives."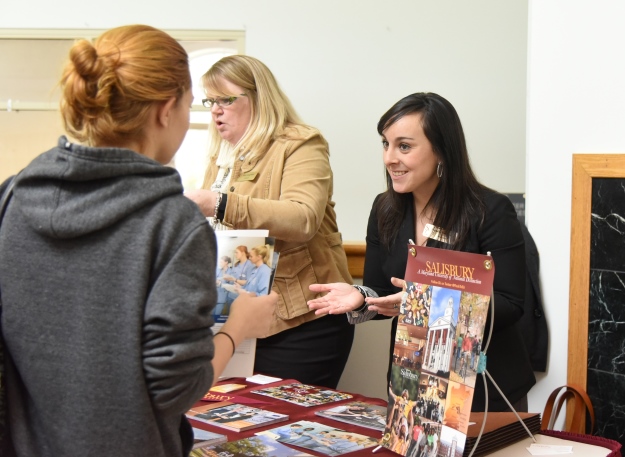 The colleges currently have 10 existing transfer agreements for Delaware Tech business degree program graduates to enroll at SU's Franklin P. Perdue School of Business in accounting, business economics, finance, finance-corporate finance, finance-financial planning, finance-investments, information systems, management, management-human resources and marketing. Agreements also exist in human services/social work and medical laboratory technology/clinical laboratory science-medical technology. Additional transfer agreements are in progress for environmental engineering technology.

Delaware Tech, celebrating 50 years as the First State's only community college, offers more than 100 associate degrees, diplomas and certificates. Delaware Tech serves as a leader in the state's workforce development. The College is accredited by the Middle States Commission on Higher Education and has four campuses located in Georgetown, Dover, Stanton and Wilmington. Visit dtcc.edu/academics/transfer-options to learn more about Delaware Tech's transfer programs.



SU, a member of the University System of Maryland, is a four-year comprehensive institution, consistently ranked as one of the nation's "Best Value" colleges. Students may choose from 42 majors, 14 graduate programs and two new doctorates in education and nursing practice. Located on the Eastern Shore, the campus is a nationally-recognized arboretum with over $350 million in new facilities, including the Guerrieri Academic Commons, opening fall 2016. Learn more at www.salisbury.edu.

Pictured at top, from left, is Dr. Dane Foust, SU's vice president of student affairs; Dr. Diane Allen, SU's provost and senior vice president of academic affairs; Justina Sapna, Delaware Tech's vice president for academic affairs; and Dr. Melissa Rakes, dean of student affairs at Delaware Tech's Owens Campus.