Thursday, October 13, 2016
SU Dance Company Presents Annual Fall Showcase November 3-6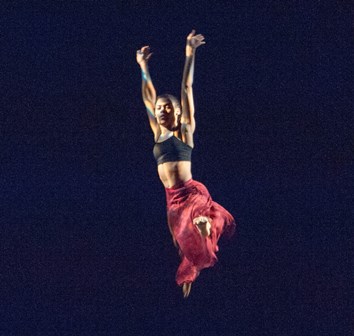 SALISBURY, MD---The Salisbury University Dance Company, under the direction of Mary Norton, hosts its 27th annual Fall Student Showcase from Thursday-Sunday, November 3-6, in Holloway Hall Auditorium.

Curtain is 8 p.m., 2 p.m. Sunday.

The concert includes student and alumni choreography, as well as a guest appearance by company alumna Kerry Brennan.

A 2012 SU graduate, Brennan appears with the guest performing troupe Hip Hop Kids, in conjunction with the Dancenter Salisbury Ensemble. With choreographer and artist Staci Alexander, she instructs ensemble students in a variety of technical styles. The group performs locally at community events and fundraisers.

Daniella Celia, a 2015 SU graduate, returns to choreograph the salsa-inspired jazz final, "Hip Hip Chin Chin." A native of Ocean City, MD, Celia was a prolific student choreographer while in the company as an undergraduate.

Student choreography includes several contemporary pieces. Junior Amanda Ernau's "Unsteady" is set to music by the X-Ambassadors and focuses on the power of addiction. Sophomore Willow Saunders uses a compilation of music for "In the Wild." Music by Coldplay, Chinese bamboo flutes and themes from HBO's Game of Thrones provide the background for her work, centered on life in the animal kingdom.

Continuing in the contemporary vein is "A Thousand Years" by senior India Whitehead. The music of Christina Perri is the inspiration for her theme of pursuing relationships. Sophomore members Corrine Dovell and Marie Hils' collaboration, "Coffee," focuses on emotional dissonance. Their dance is set to music by Sylvan Esso.

"Me Too" by Meghan Trainor sets the tone for sophomore Arielle Weinstein's tap dance of the same name. Her work expresses self-confidence and the enjoyment of good friends.

Admission is $12, $9 for seniors, teens and SU alumni. Children under 12 are free. SU ID holders are free for Thursday evening's performance. Reservations are not required. Tickets may be purchased online and are available at the door 30 minutes before curtain.

For tickets visit www.salisbury.edu/performingarts. For more information call 410-543-6228.