Wednesday, November 5, 2008
SU Dance Company Presents 19th Annual Fall Showcase November 12-15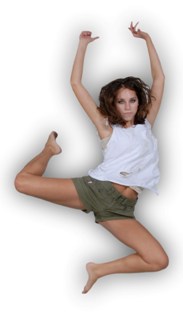 SALISBURY, MD---The Salisbury University Dance Company, directed by Mary Norton, hosts its 19th annual Fall Showcase 8 p.m. Wednesday-Saturday, November 12-15, in Holloway Hall Auditorium.
This popular dance production features premiere works by guest choreographer Amanda Showell-Cook and six company members.
An energetic swing/jive number with a USO-feel featuring the entire company marks Showell-Cook's first work for the company. Showell-Cook, who resides in Greensboro, MD, is a professional ballroom dancer who has coached dance teams at Princeton University and the University of Delaware. She has many championship titles to her credit and is the owner of "Dancing on the Shore" where she instructs amateur and competitive dancers throughout Maryland.
Artists Only, a modern dance by senior Katie Erdman, uses the music of Talking Heads to explore the creativity of visual artists. Senior Jenna Makris explores human emotion in her contemporary piece, Disturbia, set to music of the same name by Rihanna.
Shay Meador, a senior, uses music by composers Chris Joss and Klaus Badelt and jazz choreography to set a tone of desperation and solitude in Unfound Desolation, a dramatic dance focusing on a group of people stranded on an island. These dances are the second works that Erdman, Makris and Meador have performed for the company.
Tricia May, a junior, is also presenting her second choreographic work in this showcase. Refuge uses modern dance technique to narrate the importance of support in relationships. The Great Escape is a lyrical/modern narrative dance about the joys of freedom in artistic expression.
Composer Patrick Wilson provides the haunting music accompanying senior Katie Richman's premiere work. Presenting her third work this semester, senior Emily Phebus' dance, How Strange, Innocence, is a thought provoking jazz dance centered on the theme of "loss of self."
This year's showcase benefits Bless Our Children, a WBOC-TV campaign that aims to brighten the holiday season for Delmarva's less fortunate children. Admission for the performance is $8, $6 for seniors, teens and SU Alumni. Children under 12 and SU ID holders are admitted free.
Reservations are not required. Tickets are available at the door only beginning 7:30 p.m. each night. For more information call 410-548-2985 or visit www.salisbury/theatreanddance.