Tuesday, October 23, 2007
SU Dance Company Presents 18th Annual Fall Showcase November 7-10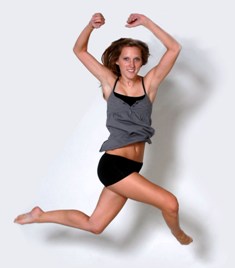 SALISBURY, MD---The Salisbury University Dance Company, directed by Dr. Victoria Hutchinson, hosts its 18th annual Fall Showcase 8 p.m. Wednesday-Saturday, November 7-10, in Holloway Hall Auditorium.
The program of this popular dance production features premieres by guest choreographer Carolyn Hitchcock and seven Company members.
Embodiment, a colorful blend of jazz dance with Bollywood film dancing style, marks Hitchcock's third work for the Company. The premieres of Swing (2004) and Flava (2002) were followed by performances at the Maryland Council for Dance Festival, Towson University and the Community College of Baltimore County at Essex. Hitchcock earned two adjudicated choreography awards for creative excellence before graduating summa cum laude from SU. Currently, she directs Agency 9, a performing arts company that trains actors and dancers in the Washington, D.C., area.
The Pursuit of Acceptance, a modern dance choreographed by junior Katie Erdman, uses thematic gestures and variations in tempo to explore the five stages of grief. Influenced by the modern ballet style of George Balanchine, senior Kristin Jenkins presents Diamonds, which is set to electronic jazz music by The Cinematic Orchestra. Junior Jenna Makris presents Everybody Dance Now, a fusion of funky jazz and hip-hop dance. The music, a remix by French disc jockey Bob Sinclair of the 1990 popular dance club hit, features Dollarman and Big Ali on vocals.
Music by Delta Goodrem accompanies Fragile, a modern dance by sophomore Tricia May that explores feelings of loneliness and vulnerability. Rhythm, The Beat, choreographed by junior Shay Meador, is a jazz dance that features quick salsa rhythms to music by Club des Belugas. Senior Carly Morrison presents Angel, a contemporary dance with flowing costumes inspired by the emotional lyrics of Sarah McLaughlin. Props and enhanced music are featured in A Place for Me, a modern dance by junior Emily Phebus set to lyrics sung by Ingrid Michaelson.
The showcase benefits Bless Our Children, a WBOC campaign that aims to make the holiday season brighter for Delmarva's less fortunate children. Admission for the one-hour performance is $8, $6 for seniors, teens, and SU alumni. Children under 12 and SU ID holders are admitted free.
Reservations are not required. Tickets are available at the door 30 minutes before curtain. For more information call 410-543-6229 or visit www.salisbury.edu/dance.