Wednesday, April 10, 2013
SU Dance Company Hosts Annual Spring Concert April 24-27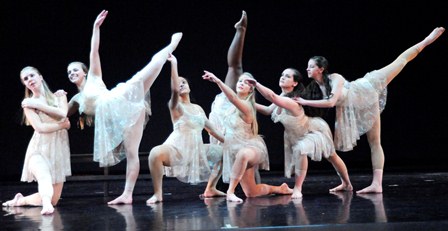 SALISBURY, MD---The Salisbury University Dance Company holds its annual Spring Concert 8 p.m. Wednesday-Saturday, April 24-27, in Holloway Hall Auditorium.
This season's program includes choreography by the company's artistic director, Mary Norton, as well as work by resident faculty member Jessica Hindman-Wheatley.
Featured in this spring's program is "Territories," a modern dance by guest choreographer Alice Howes. Howes is a full time dance faculty member at Coppin State University and director of the Coppin State University Dance Ensemble. She also has taught at American University, Lamar University and SU. She holds a B.A. in dance and English from James Madison University and an M.F.A. in dance from Sam Houston State University. Her choreography has appeared in several selective showcases at venues including Washington, D.C.'s Dance Place and the Kennedy Center for the Performing Arts.
Middle Eastern choreography in the style of the Golden Era of Egyptian dance is presented in "A Tribute to Warda" by guest artist Kostana (Cheryl Sidwell). Kostana is a professional dancer who specializes in Turkish Oriental, Romani and Egyptian Raqs al Sharqi. Her performing career has included appearances at the Kennedy Center and the Smithsonian Folklife Festival. She was a founding instructor at Saffron Dance School in Arlington, VA, and company director of the Saidi Folkloric Dance Company.
The music of Skrillex sets the tone for Staci Alexander-Snyder's hip hop work, "Art Isn't Always Beautiful." Snyder's work has been included in the company's repertory over the past three seasons.
Alumna Katie Erdman returns to present a new modern work, "At the Bottom of Everything," set to the song of the same name by Bright Eyes. Erdman is a former company member and past president. While in the company, her choreography earned inclusion in the Spring Concert for two consecutive years.
"Home," a contemporary work by company member Stephanie Johnson, also is included in the program. Johnson was the adjudicated student choreographer in the company's 2012 Fall Showcase.
Variations from Bizet's Carmen provide the inspiration for Norton's ballet work of the same name. The show concludes with Hindman-Wheatley's musical theater production of "One" from the musical A Chorus Line.
Admission is $15, $12 for seniors, teens and SU alumni. A portion of the proceeds benefit The Brooke Mulford Fund. Children under 12 and SU ID holders are admitted free. Reservations are not required. Tickets may be purchased online and are available at the door beginning at 7 p.m. nightly. For more information, call 410-543-6228 or visit the SU Theatre and Dance Department Web site at www.salisbury/theatreanddance.