Tuesday, January 14, 2014
SU Creates State's First Undergraduate Student Dental Association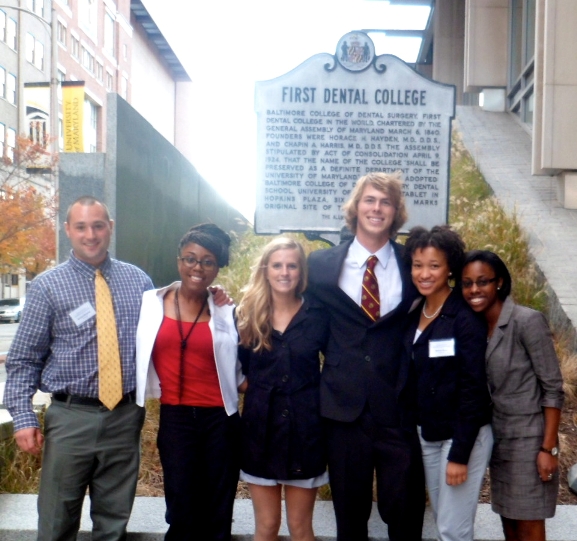 SALISBURY, MD---Salisbury University has established the first Undergraduate Student National Dental Association (USNDA) in Maryland.

"This organization will be very beneficial to SU students who are interested in pursuing dentistry as a profession and to those who want to go into the health field but are not sure in what capacity," said SU senior Krystal Donaldson, the group's founding president. "They will have the opportunity to explore the dental field."

With 10 initial members, the new Registered Student Organization was designated an official chapter and approved at a Student Government Association meeting last fall.

"USNDA Members will have the opportunity to hear from admissions recruiters and currently-practicing dentists (general and specialist), shadow local dentists and gain insight from current dental students from the University of Maryland School of Dentistry – the only dental school in the state – as to how to adequately prepare to enter dental school via mentorship," Donaldson said.

A pre-dental student from Temple Hills, MD, Donaldson participated in free enrichment programs like the Summer Medical and Dental Education Program at Rutgers School of Dental Medicine in New Jersey and the Profile for Success program at the University of Michigan, School of Dentistry.

"Many students do not have that privilege due to work in the summer or other reasons," she said. "My vision for USNDA at SU is to bring all that I have experienced to other students so that they can be well informed of the field and be competitive candidates when they enter the application cycle for dental school. Although it is important to have good GPA and DAT scores, it is just as important to show commitment to the field, and I think USNDA will provide that outlet for students."

Dr. Diane Davis, director of SU's Medical Laboratory Science and Health Professions Advising program, said Donaldson has shown "extraordinary leadership in organizing the USNDA and in her participation in other campus activities."

"I am so proud of all the students who banded together to make SU the first USNDA chapter in Maryland," Davis said. "SU's pre-health students were a significant work group at the recent Dental Mission of Mercy held in Salisbury, and Krystal also took on the task of attending Mission of Mercy meetings and writing newsletter updates. Krystal and her fellow students have shown the best of themselves in so many ways, and I am happy to work with them in achieving their professional goals."

The new organization has already met to explore plans for the spring semester.

Pictured above, from left, are USNDA members Samuel Maiman, Shayla Butler, Dana Short, Ryan Mariner, Kelsey Clark and Donaldson at the University of Maryland, School of Dentistry (UMSOD) for Impressions Day last fall.

Donaldson has been accepted to the UMSOD and earned a $5,000 scholarship. She starts fall 2014.

For more information on the USNDA, contact Donaldson at kd72606@gulls.salisbury.edu.