Friday, January 21, 2011
SU Couple to Plan a Wedding in a Week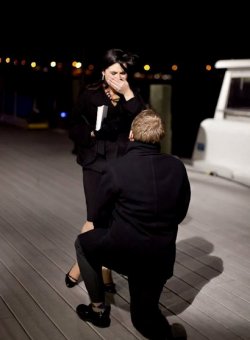 SALISBURY, MD—Is it possible to plan a wedding in a week? A Salisbury University graduate and his fiancée (a current student) are going to try!
Alex Williams of Hurlock and his fiancée Megan White of Waldorf today won a "Wedding in a Week" competition sponsored by Mix 107.3 FM in Washington, D.C. The couple, biology lab partners who first met on campus in 2005, received a total of 31,720 votes from family, friends, co-workers and members of the public who heard their story on the air.
The celebration, worth some $40,000, will take place in just one week (on Friday, January 28) at Top of the Town, an elegant facility offering sweeping views of the Potomac River, and D.C. landmarks and monuments. After today's live announcement by morning show host Jack Diamond, the couple decided to return early from a ski trip to begin planning.
Throughout the week, the public is invited to cast daily votes to help Alex and Megan
choose important details, including the dress, the cake, flowers, food and more.
Williams earned two degrees from SU: an M.B.A. in 2010 and a B.A. in English in 2008. White is currently enrolled in SU's respiratory therapy program at the Universities at Shady Grove. She graduates in May 2011.
Cheers!
Update: Alex and Megan did get married on Friday, January 28. To view the video and photos, visit http://www.mix1073fm.com/Article.asp?id=2043778&spid=22595.