Thursday, March 4, 2010
SU Contractors Explore Architecture, Construction and Engineering with Students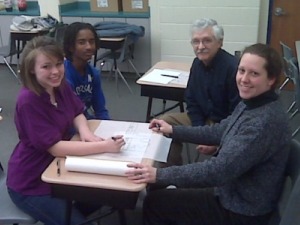 Salisbury, MD---Local high school students are discovering careers in architecture, construction and engineering thanks to a new mentoring program that connects them with area professionals in these fields.
Through the ACE Mentor Program of America, 11 volunteers from four Salisbury-based companies, and two national contractors involved with construction at Salisbury University, are teaching students about their industry through mock development projects.
A team from Wicomico High School is designing a miniature golf course, while a James M. Bennett group is working on a diner. More than 20 students, ranging from freshmen to seniors, are participating.
"The construction industry is the second largest in the U.S. behind healthcare and there are so many potential career paths for students," said Melissa Drew, project manager for Holder Construction Company, the mid-Atlantic-based contractor overseeing SU's Franklin P. Perdue School of Business building. "We are just exposing them to areas of interest that they can start focusing on in high school. We share our own work experiences and provide information about the industry as a whole."
This is the first year for the Wicomico branch of ACE, which was modeled after a successful chapter in Easton, MD. ACE exists in more than 80 cities nationally. The Wicomico program was spearheaded by John Nelson, vice president of Whiting-Turner Contracting in Cambridge, MD, and is lead locally by Matt Drew, executive vice president of AWB Engineers in Salisbury.
Other participating firms include Harkins Concrete Construction, Inc., a private contractor in Salisbury; Allen & Shariff Engineering, a mechanical, electrical and plumbing design firm with offices in Salisbury, Columbia, MD, and Pittsburgh, PA; and Becker Morgan Group, an architecture and engineering firm with offices in Salisbury, Dover, DE, and Wilmington, NC. Also involved are Holder, and Whiting-Turner, the Baltimore-based contractor that is working on SU's Sea Gull Square.
Since November, the students have been meeting every other week for about two hours after school. Each session includes discussions on a particular topic, and then application to their projects. The week students learned about mechanical engineering, for example, they developed HVAC and plumbing systems for their designs. Other topics have included architecture, civil engineering, electrical engineering, structural engineering, construction and cost planning.
On Tuesday, March 16, the students will formally present their plans to their principals, teachers, parents and members of the Wicomico County Board of Education during a morning breakfast meeting at Wor-Wic Community College.
Kim Nechay, director of development for SU Advancement and assistant director of the SU Foundation, recently got involved with ACE to discuss presentation skills and offer advice.
"Salisbury University is dedicated to preparing our students to enter Science, Technology, Engineering and Mathematics (STEM) fields, and so it's great to see kids exploring these areas of study even in high school," she said. "It is exciting that several local firms, including two that are working right here on our campus, are actively participating as mentors for the ACE program."
According to Drew, there are plans to expand the program to 13 sessions, and include Mardela and Parkside high schools, next year. For more information, call 410-543-6030 or visit the SU Web site at www.salisbury.edu.