Tuesday, May 19, 2009
SU Composer's Work Featured at Scotland Festival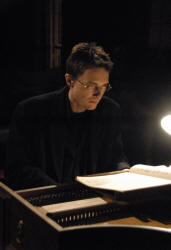 SALISBURY, MD---A Salisbury University music professor is one of eight people worldwide selected to create a composition that will be performed at Scotland's annual St Magnus Festival in June.
Dr. Robert Baker of the Department of Music is creating a five to seven minute piece for Psappha, a seven-member string and percussion ensemble from Manchester, England. The group has twice been shortlisted for a Royal Philharmonic Society Award.
"I just recently started the piece; it's quite early in the process yet," Baker said. "We are to arrive in Scotland prior to the festival on June 13 with the piece 'nearly complete' in order to receive feedback and hear the players rehearse our work-in-progress. Then, we have about nine days to finish it for the premiere on June 24, the last day of the festival. It's quite exciting to be chosen."
Founded in 1977 by distinguished resident composer Sir Peter Maxwell Davies, the annual festival is held in Orkney, an archipelago north of Scotland's mainland known for its Neolithic monuments, dramatic cliffs and rich musical tradition. Scottish critic and columnist Joyce McMillan called the festival: "A perfect setting for the human spirit at its creative best."
Baker was selected, along with seven other composers from Britain, Germany and the United States, after providing two examples of his previous compositions. During a composition workshop, he will have the opportunity to work directly with Davies, who was a composer/conductor for the Royal Philharmonic and the BBC Philharmonic, and has also guest conducted orchestras internationally. Baker describes him as "a legend in new-music circles." Baker will also work with two professional Scottish composers Alasdair Nicolson and Sally Beamish.
To create his "contemporary art-music," Baker said: "I use conventional orchestral instruments and acknowledge the so-called 'classical' tradition, but my music is of course not at all classical, in the manner of Mozart. Rather it is imbued with the effects of 20th century development and experimentation, embracing dissonance and noise, and questioning the very nature of musical sound, meaning and discourse."
His music has been performed across the U.S., Wales, Italy and the Czech Republic, and by numerous Canadian ensembles including the Esprit Orchestra and toneART, which Baker founded. It may be heard on classical guitarist Danielle Cumming's 2001 CD Postcards and toneART's self-titled 2003 recording. A third CD is scheduled for release this summer.
Baker earned his Ph.D. in composition in 2008, after studying under composer John Rea at McGill University in Montréal, Canada. An experienced conductor of orchestras and choirs, he most recently conducted SU's production of Dido and Aeneas from the harpsichord. He currently serves as staff accompanist and teaches music appreciation courses at SU.
For details about the festival, visit www.stmagnusfestival.com. To hear samples of Baker's work, visit www.robertabaker.net. For information call 410-543-6030 or visit the SU Web site at www.salisbury.edu.