Monday, December 12, 2016
SU Class Conducts Q&A with Award-Winning Director Baker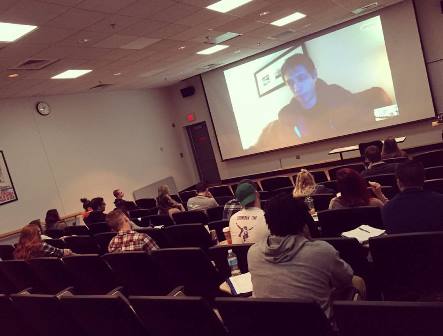 SALISBURY, MD---Salisbury University students in Dr. Andrew Scahill's Film Genre class recently conducted a question-and-answer session with award-winning director Sean Baker while concluding a unit on the "screwball comedy."

Baker is best known for the 2015 film Tangerine, shot entirely on an iPhone 5. The movie chronicles a day in the life of two transgender sex workers in Los Angeles using a hyper-saturated "pop vérité" style.

During the talk, Baker addressed the challenges of filming on a micro-budget, the collaborative nature of filmmaking, and the political potential of social realism and comedy.

His was the fourth "Talking Pictures" Q&A in Scahill's film studies classes. Previous guests included Mad Max: Fury Road composer Junkie XL, Winter's Bone producer Anne Rosellini and Breaking Bad producer Stuart Lyons.

For more information call 410-543-6030 or visit the SU website at www.salisbury.edu.