Monday, December 16, 2013
SU Children's Theatre Workshop Presents 'The Tales of King Arthur' January 18-19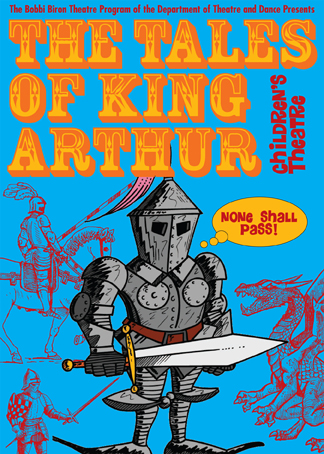 SALISBURY, MD---Salisbury University's Children's Theatre Workshop presents a family-friendly all-puppet retelling of the Arthurian legend – complete with plenty of Monty Python references for the grownups – Saturday-Sunday, January 18-19.
Curtain is 2 p.m. and 4 p.m. in the Black Box Theatre of Fulton Hall.
Tom Anderson of the Theatre and Dance Department directs the original script written by sophomore theatre major Carrie Anne Cicero, The Tales of King Arthur.
"We've been looking at a lot of published legends, like an old leather-bound copy of The Legend of King Arthur," Anderson said. "We went through the T.H. White stuff, including The Book of Merlyn and even some folk adaptations.
"There are a lot of historians who think that the legends are based on real people, but we're trying to find the Sword in the Stone angle to it. This isn't Disney, exactly, but it's kind of a nice blend between what we popularly know, some things we don't all know, and a kind of Monty Python take on it in a very humorous way."
The story will follow the adventures of young Arthur as he grows into his role as the future king of England. King Pellinore, a peripheral character in many Arthurian legends, guides Arthur.
"He was a role model in many ways for Arthur growing up," Anderson said. "Pellinore was this kind of lost king who had given up his kingdom to pursue his family's quest, which was this beast famously called the 'Questing Beast.' It's a great through-line, because it's something that can run through the entire show."
Anderson said the narrative mostly will avoid the infamous love triangle between Guinevere and Lancelot, instead sticking to adventures that may be more suitable for children. Using puppets is both advantageous to that effect, and has fewer limitations than using live actors.
"When I first thought of the idea I honestly thought, 'Wouldn't it be cool to do Shakespeare with puppets?'" Anderson said. "Just think how wonderful and fantastical the battles in Richard III could be! In that scale you can do all kinds of terrific things. That made me think about the medieval legends.
"I just remember as a kid how much I love these stories. It was one of the first books I ever gravitated to myself."
The puppets will be constructed and operated by students in Anderson's winter term class.
"We convene on January 2, and basically in three weeks we finish up the script, rehearse the play, build the puppets, all the scenery, produce it, open it and play it."
Anderson cited Terry Gilliam's cartoons with Monty Python as a tonal inspiration.
"He always had these wonderful beasts," Anderson said. "One of the first things that drew me to this was my desire to do the Questing Beast, and I thought that's how it should feel. I also want some of the irreverent tone that they had with the Holy Grail.
"I love British humor and Monty Python. It's one of the great high-minded comedies that's not afraid to be silly, and I think that will be appealing. I'm a child at heart, and that's who we're trying to appeal to – real children as well as grownup children."
Admission is $5. Adults receive one free ticket per child. Tickets are available online at www.salisbury.edu/theatreanddance and through the SU Box Office, Fulton Hall Room 100.
For more information call 410-543-6228 or visit the SU website at www.salisbury.edu.