Monday, January 9, 2012
SU Children's Theatre Workshop Presents 'Odyssey' January 21-22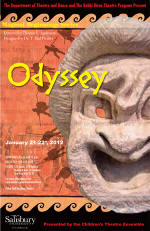 SALISBURY, MD---Students in Salisbury University's Children's Theatre Workshop are about to take area youngsters on an Odyssey.

Tom Anderson of SU's Theatre and Dance Department directs a 45-minute puppet theatre adaptation of Homer's epic poem at 2 and 4 p.m. Saturday-Sunday, January 21-22, in the Black Box Theatre of Fulton Hall. Additional performances for local schools continue throughout the week.

"Our goal is to find the really fun parts of the poem and give them a really exciting show," said Anderson, noting that some of the scarier and more salacious portions of the work would be toned down. "We don't want to give them nightmares. We want to excite them."

He also wants to challenge his students. In the past, the annual winter class has focused on traditional acting. Giving life to puppets is a change Anderson hopes broadens many of the students' abilities.

"This is an extremely new medium for them," he said. "In every theatre class they've taken, they have been taught to use body language and facial expressions to help tell the story. Now we're asking them not to do that, but at the same time they have to give emotion and humanity to the puppets."

As if that were not challenging enough, the workshop's 15 students have been charged with creating the puppets using only organic materials – such as sticks, leaves and pinecones – as well as adapting, staging, lighting the production all in the course of two and a half weeks.

Anderson said he received early experience in the medium from a high school drama coach who was a puppeteer. He not only wanted to pass that experience on to his own students, but to take one of the literary works that drew him to theatre in the first place and stage it using a unique medium.

He also hopes the show will help introduce children to classic literature in a fun and memorable way

"A lot of children's theatre talks down to children," he said. We don't want to do that."

Despite common belief, puppets are not just for kids, he added.

"Every other culture in the world does this," said Anderson, offering bunraku Japanese puppet theatre as an example. The adult-themed Broadway show "Avenue Q shows some of what can be done with puppetry, and the Muppets have been breaking ground forever," he said. "It's much more accessible than we sometimes make it."

Participating students include Robert Ackerman, Joe Arnett, Carrie Bruns, Kariann Campbell, Cat Chapman, Marisa Corbett, Tess Daugherty, Molly Graham, Marissa Graydon, Lindsay Haas, Amanda Hixenbaugh, Josh Kuyendall, Kacey McAninch, Christa Nimmerrichter, Sarah Olson, Johnny Pantazis, Eric Russell and Bridget Willey.

Admission is $5. Adults receive one free ticket per child. For advance tickets visit the SU Theatre and Dance Department Web site at www.salisbury.edu/theatreanddance and click on "2011-2012 Season" or visit the SU Box Office, Fulton Hall Room 100, between 10 a.m. and 4 p.m. Monday-Friday. (Note: The Box Office is closed Monday, January 16, in observance of Martin Luther King Jr. Day.)

For more information call 410-548-5588.